Lanling Wang
Talk

0
3,424pages on
this wiki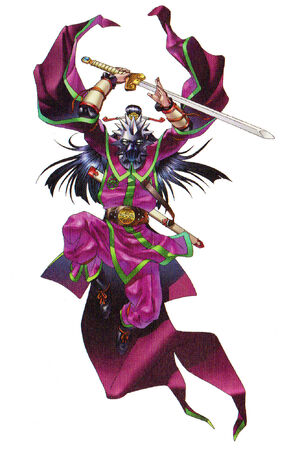 Lanling Wang, known as Raryou-oh (ラリョウオウ) in Japan, is a demon in the series.
Known as Lanling Wang (蘭陵王) in China or Prince Lanling, he is the main character of the famous Nuo Opera Lanling Wang Ru Zhen Qu (Prince Lanling in Battle) from the Sui and Tang Dynasties.
Appearances
Edit
Shin Megami Tensei IVEdit
Lanling Wang can only be obtained as the result of a fusion accident.
Devil Summoner: Soul HackersEdit
"A general of the Northern Qi during the 600s. He wore an ugly mask in battle because he was too beautiful for the battlefield. He was said to lead a cavalry of 500 men. His deeds were reproduced in a Chinese opera, where he wears a terrifying dragon mask."
—Devil Summoner: Soul Hackers Compendium
Lanling Wang can be obtained if Zeed is level 40 or higher and fused with a Seiryu during a new moon.
Shin Megami Tensei IVEdit
| Race | Level | HP | MP | ST | DX | MA | AG | LU |
| --- | --- | --- | --- | --- | --- | --- | --- | --- |
| Famed | 43 | 501 | 99 | 61 | 54 | 43 | 49 | 40 |
| Phys | Gun | Fire | Ice | Elec | Force | Light | Dark |
| --- | --- | --- | --- | --- | --- | --- | --- |
| - | - | - | - | Resist | - | Null | Null |
Devil Summoner: Soul HackersEdit
| Race | Level | HP | MP | CP | MAG Summon |
| --- | --- | --- | --- | --- | --- |
| General | 44 | 434 | 192 | 5 | 347 |

| Strength | Intelligence | Magic | Endurance | Agility | Luck |
| --- | --- | --- | --- | --- | --- |
| 16 | 12 | 14 | 9 | 13 | 10 |
| Personality | Phys Attack | Phys Hit | Mgc Attack | Mgc Hit | Base Defense | Avoid |
| --- | --- | --- | --- | --- | --- | --- |
| Calm | 120 | 72 | 127 | 38 | 122 | 71 |
| Resist | Void | Absorb | Reflect | Weak |
| --- | --- | --- | --- | --- |
| - | Death, Expel, Mind, Nerve | - | - | - |