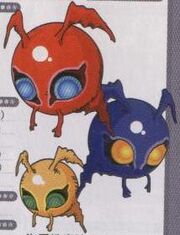 Raykon, also known as Devil Reikon (デビルレイコン, Debirureikon), is a demon in the series.
Devil Reikon means "devil soul".
Appearances
Edit
DemiKids: Light & DarkEdit
"The lost souls of evil demons. They often gather in groups and attack as one."
—DemiKids Demonary
Known as Raykon is found on Mount Giles in DemFire. He is surprised by the appearance of a DemiKid and decides to join the party.
Demikids: Dark & LightEdit
| Class | Element | Type | Exp | Level | HP | MP |
| --- | --- | --- | --- | --- | --- | --- |
| Common | Ice | Ghost | | 38 | 411 | 161 |

| ATK | DEF | MGC | RES | SPD | LCK |
| --- | --- | --- | --- | --- | --- |
| 35 | 35 | 36 | 34 | 33 | 30 |
List of Skills

Skill
Element
Cost
Effect
Polarblast
Ice
20 MP
Medium dmg. Foes
Ice Breath
Ice
23 HP
Small dmg +Freeze. 2 Foes
Magic Drain
Dark
30 HP
Large dmg +MP Drain. 1 Foe
Reflect
Dark
25 HP
Reflect Power Damage
Paralyze
Dark
20 HP
Medium dmg +Paralyze. 1 Foe
Polarlok
Ice
15 MP
Large dmg +Freeze. 1 Foe
Devil Children Fire/Ice BookEdit
| Class | Element | Type | Exp | Level | HP | MP |
| --- | --- | --- | --- | --- | --- | --- |
| Common | Ice | Ghost | | 38 | 411 | 161 |

| ATK | DEF | MGC | RES | SPD | LCK |
| --- | --- | --- | --- | --- | --- |
| 35 | 35 | 36 | 34 | 33 | 30 |
Devil Children Messiah RiserEdit
| Number | Element | Weakness | Type | Level | HP | MP |
| --- | --- | --- | --- | --- | --- | --- |
| 62 | Ice | Fire | Ghost | 22 | 50 | 160 |
| ATK | MGC | DEF | RES | SPD | Quick | Call | Spell |
| --- | --- | --- | --- | --- | --- | --- | --- |
| 6 | 33 | 0 | 0 | 12 | 33 | 14 | Mabufula |