Ad blocker interference detected!
Wikia is a free-to-use site that makes money from advertising. We have a modified experience for viewers using ad blockers

Wikia is not accessible if you've made further modifications. Remove the custom ad blocker rule(s) and the page will load as expected.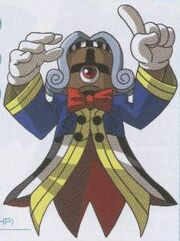 Requiem (レクイエム, Rekuiemu) is a demon in the series.
A Requiem (Latin: requies, literally "rest," or "repose"), also known as a Requiem Mass, or Mass for the Dead, is a large musical work composed to honor the souls of the deceased. The work is usually split into many different movements, beginning with an introduction and moving through various texts (most often in Latin) that describe death and ask for peace for those who have been lost.
Requiem Mass works have been composed since the late 18th century, but the Latin texts used in Requiems have been sung as Gregorian chants to honor the dead since medieval times.
Appearances
Edit
Devil Children White BookEdit
Can be found in the Construction Site.
Devil Children White BookEdit
| Class | Element | Type | Exp | Level | HP | MP |
| --- | --- | --- | --- | --- | --- | --- |
| Common | Fire | Alternate | 56 | 11 | 125 | 57 |
| ATK | DEF | MGC | RES | SPD | LCK |
| --- | --- | --- | --- | --- | --- |
| 12 | 11 | 8 | 9 | 10 | 10 |