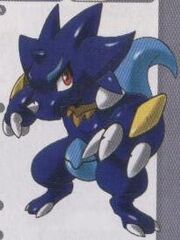 Rox, also known as Hei Long (ヘイロン?), is a demon in the series.
Hei Long is Chinese for "Black Dragon".
Appearances
Edit
DemiKids Light/Dark VersionEdit
A Rox named Gale is the demon partner of Akira, the protagonist of the Dark Version. Rox can perform the Dark combo Dragon Blow with Basilisk, which hits all foes twice for 15 MP.
Devil Children Fire/Ice BookEdit
Gale is transformed back into Hei Long at the beginning of Ice Book.
DemiKids Light/Dark VersionEdit
| Class | Element | Type | Exp | Level | HP | MP |
| --- | --- | --- | --- | --- | --- | --- |
| Common | Dark | Myth | | 5 | 72 | 28 |

| ATK | DEF | MGC | RES | SPD | LCK |
| --- | --- | --- | --- | --- | --- |
| 12 | 11 | 7 | 9 | 8 | 6 |
List of Skills

Skill
Element
Cost
Effect
Dark Howl
Dark
25 HP
Small dmg. Foes
Crush Claw
Dark
20 HP
Small dmg +DEF Down. 1 Foe
Heal
Light
5 MP
Minor HP recovery. 1 Ally
Heal All
Light
12 MP
Minor HP recovery. Party
Powerboost
Light
6 MP
ATK Up. Party
Polardeus
Ice
8 MP
Small dmg +Freeze. 2 Foes
Combos

Combo
Parter
Element
Cost
Effect
Splash Ray
Abaddon
Water
15 MP
Dmg. Foes
Dragon Blow
Basilisk
Dark
15 MP
Punch x2. Foes
Devil Children Fire/Ice BookEdit
| Class | Element | Type | Exp | Level | HP | MP |
| --- | --- | --- | --- | --- | --- | --- |
| Common | Dark | Myth | | 5 | 72 | 28 |

| ATK | DEF | MGC | RES | SPD | LCK |
| --- | --- | --- | --- | --- | --- |
| 12 | 11 | 7 | 9 | 8 | 6 |
Devil Children Messiah RiserEdit
| Number | Element | Weakness | Type | Level | HP | MP |
| --- | --- | --- | --- | --- | --- | --- |
| 81 | Dark | Light | Myth | - | 115 | 100 |
| ATK | MGC | DEF | RES | SPD | Quick | Call | Spell |
| --- | --- | --- | --- | --- | --- | --- | --- |
| 10 | 10 | 4 | 3 | 15 | 20 | - | Dark Howling |