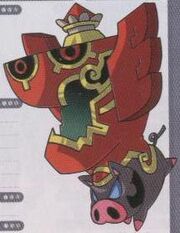 Rudra (ルドラ, Rudora) is a demon in the series.
Rudra is an ancient god in Vedic and Hindu traditions who was known as the Red One, or the Howler. He was the god of storms, hunting, animals, and diseases who brought death to those whose time came. He is a predecessor to the Hindu god Shiva and the Maruts were his sons. He is considered an asura, and was in fact a god of the Dasa people, who were often in conflict with the Aryan people.
It is said that he became Hayasrica ("The Horse-Necked One") when he had a horse forced into his rectum, which purified his body. After exploding out of his head, the horse became green and its mane turned orange.
In Zoroastrianism Rudra is known as Saurva who is one of the daeva servants of Ahriman, because of his role as a predecessor to Shiva means that Shiva is also known as Saurva.
Appearances
Edit
DemiKids Light/Dark VersionEdit
Known as Ludra, he resides in Hermit. In Light Version he will ask Jin if he will save Judy. Saying he will has him state that if he does save her then he'll meet him in Foggy Marsh, vanishing afterwards. Talking to him in the marsh will have him decide to join the party in order to fight the Imperium alongside Jin.
DemiKids Light/Dark VersionEdit
| Class | Element | Type | Exp | Level | HP | MP |
| --- | --- | --- | --- | --- | --- | --- |
| Common | Wind | Beast | 48 | 10 | 116 | 53 |

| ATK | DEF | MGC | RES | SPD | LCK |
| --- | --- | --- | --- | --- | --- |
| 14 | 12 | 8 | 6 | 7 | 11 |
List of Skills

Skill
Element
Cost
Effect
Cyclone
Wind
5 MP
Small dmg. 1 Foe
Bite
Light
15 HP
Small dmg. 1 foe
Intox
Dark
6 MP
Happy. 1 Foe
Chomp
Dark
10 HP
No DEF Medium dmg. 1 Foe
Windblast
Wind
28 HP
Medium dmg. 1 Foe
Heal All
Light
12 MP
Minor HP recovery. Party
Devil Children Fire/Ice BookEdit
| Class | Element | Type | Exp | Level | HP | MP |
| --- | --- | --- | --- | --- | --- | --- |
| Common | Wind | Beast | 48 | 10 | 116 | 53 |

| ATK | DEF | MGC | RES | SPD | LCK |
| --- | --- | --- | --- | --- | --- |
| 14 | 12 | 8 | 6 | 7 | 11 |