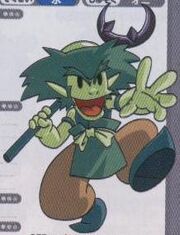 Sa Gojo (サゴジョウ, Sagojyou) is a demon in the series.
Sha He Shang (沙和尚, or Sha Seng 沙僧, which means Sand Monk)
Another character from the novel: A journey to the West, the last of the three deciples of the Holy Monk. He was once a general in the Celestial Court, as his senior Zhu Ba Jie was, exiled from the Celestial Court for committing petty mistakes, and was waiting for his fateful rendez-vous with his master in the River of Flowing Sands. A silent and hard working, albeit less pronounced character in the story.
Appearances
Edit
DemiKids: Light & DarkEdit
"An amphibious demon with a plate on his head to keep him supplied with water."
—DemiKids Demonary
Known as Saggath, he has the power Camaraderie. The combos Hydro Blast can be performed with Neptina and Acid Rain with Tiamat.
DemiKids: Light/Dark VersionEdit
| Class | Element | Type | Exp | Level | HP | MP |
| --- | --- | --- | --- | --- | --- | --- |
| Elite | Water | Ogre | 456 | 33 | 348 | 175 |

| ATK | DEF | MGC | RES | SPD | LCK |
| --- | --- | --- | --- | --- | --- |
| 28 | 26 | 30 | 28 | 24 | 30 |
List of Skills

Skill
Element
Cost
Effect
Aquaburst
Water
10 MP
Medium dmg. 1 Foe
Venom
Dark
6 MP
Poison. 1 Foe
Pandemonium
Dark
6 MP
Confuse. 1 Foe
Aquadeus
Water
8 MP
Small dmg. 2 Foes
Blur
Dark
5 MP
ACC Down. Foes
Speed Stab
Dark
25 HP
No DEF Small dmg+Mute. 1 Foe
Devil Children Fire/Ice BookEdit
| Class | Element | Type | Exp | Level | HP | MP |
| --- | --- | --- | --- | --- | --- | --- |
| Elite | Water | Ogre | 456 | 33 | 348 | 175 |

| ATK | DEF | MGC | RES | SPD | LCK |
| --- | --- | --- | --- | --- | --- |
| 28 | 26 | 30 | 28 | 24 | 30 |