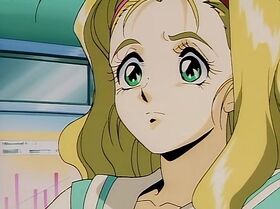 Saki Yagami (八神咲) is a character in Tokyo Revelation. She is voiced by Kotono Mitsuishi in the Japanese version and Lia Sargent in the English dub.
Appearances
Profile
Saki Yagami is a staff-member of Kichijouji Seijou Gakuen's newpaper and Yousuke Miura's girlfriend. Through Yousuke, she becomes close friends with Kojiro Souma. Her body possesses massive amounts of Magnetite, which attracts Akito Kobayashi and Marika Kusaka's attention. This makes her a primary target for those seeking to bring Ose into the world and while she is rescued when kobolds attack her, she is eventually kidnapped by Akito.
However, Gagyson betrays Akito and sacrifices her himself to bring Ose into the world. Akito, troubled by the fact that Kojiro is in danger, sacrifices himself to bring her back to life and cut off the flow of magnetite to Ose. Together, they bring about her reincarnation as Konohana Sakuya.
Gallery
Ad blocker interference detected!
Wikia is a free-to-use site that makes money from advertising. We have a modified experience for viewers using ad blockers

Wikia is not accessible if you've made further modifications. Remove the custom ad blocker rule(s) and the page will load as expected.