Ad blocker interference detected!
Wikia is a free-to-use site that makes money from advertising. We have a modified experience for viewers using ad blockers

Wikia is not accessible if you've made further modifications. Remove the custom ad blocker rule(s) and the page will load as expected.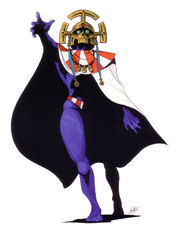 Sanni Yaka (サンニ・ヤカー?) is a demon in the series.
Meaning demon of Sanni, it is group of demons from Sri Lanka mythology. 18 in all, they represent 18 different diseases that threaten a community. Rituals meant to heal communities are held when a disease is identified, with dancers who wear different masks that represent one of the Sanni. The Yaka are said to be his servants.
Appearances
Edit
Shin Megami TenseiEdit

"Origin: Sri Lanka. The spirits of disease in Sri Lankan lore. They are said to be variations of the Yaksa of Hindu descent. Shamans summon them, and they either take offerings or are expelled using Buddhist instruments."
—Shin Megami Tensei A-Mode DDS Dictionary
Shin Megami TenseiEdit
| CP | NOA | ATK | ACC | DEF | EVA | M.ATK | M.EFC |
| --- | --- | --- | --- | --- | --- | --- | --- |
| 22 | 1-5 | 83 | 31 | 34 | 27 | 9 | 6 |

| | | |
| --- | --- | --- |
| St | 20 | |
| In | 5 | |
| Ma | 8 | |
| Vi | 9 | |
| Ag | 26 | |
| Lu | 5 | |
| | | | |
| --- | --- | --- | --- |
| Resistances | Resists magic, reflects Curse | Drop | Bead |
List of Skills

Skill
Cost
Effect
Paral Eyes
Extra
Paralyzes one enemy. (Curse-type)
Venom Breath
Extra
Attacks multiple enemies and Poisons them. (Force-element)
Blood Thief
Extra
Curses one enemy. (Curse-type)
Last Bible IIIEdit
| Level | HP | MP | ATK | DEF | STR | INT | END | SPD | LUC |
| --- | --- | --- | --- | --- | --- | --- | --- | --- | --- |
| 38 | 433 | 207 | 103 | 50 | 17 | 18 | 18 | 16 | 14 |
Majin Tensei II: Spiral NemesisEdit
| Race | Level | HP | MP | Mv Range | Mv Type | Atk Range | MAG |
| --- | --- | --- | --- | --- | --- | --- | --- |
| Jarei | 53 | 227 | 130 | 6 | Walk | 1 | 495 |

| St | Ma | In | Ag | Lu | Atk | P.Def | M.Atk | M.Def | Hit | Eva | Crt |
| --- | --- | --- | --- | --- | --- | --- | --- | --- | --- | --- | --- |
| 20 | 17 | 18 | 9 | 5 | 76 | 21 | 41 | 48 | 93 | 10 | 17 |
List of Skills

Skill
Power
Range
Cost
Target
Effect
Shibaboo
-
1
30 MP
Single
Gives Bind status to one enemy
Death Touch
-
1
Extra
Single
Absorbs half enemy's max HP and gives to user