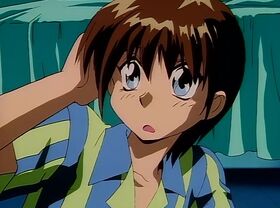 Sanshirou Souma (相馬三四郎) is a character in Tokyo Revelation and Giten Megami Tensei: Tokyo Mokushiroku. He is voiced by Kazuki Oshima in the Japanese version and Brianne Siddall (Credited as Ian Hawk) in the English dub.
Appearances
Edit
In contrast to his older brother Kojiro Souma, Sanshirou loves computers and video games to an intense degree and in the manga, he can often be seen playing dungeon crawlers that bear a striking similarity to some of the earlier Shin Megami Tensei games. In the OVA, he is abducted into a Demon Summoning Program in order to lure Kojiro into Gagyson's trap.
Kojiro manages to save him at the cost of his own life. When he awakens, he finds Kyouko Shibusawa still in shock from being kicked out of the Cult of Gaia. He tries to cheer her up, but she vanishes just after his mother returns.
Sanshirou reappears in Giten Megami Tensei: Tokyo Mokushiroku.
Ad blocker interference detected!
Wikia is a free-to-use site that makes money from advertising. We have a modified experience for viewers using ad blockers

Wikia is not accessible if you've made further modifications. Remove the custom ad blocker rule(s) and the page will load as expected.