Ad blocker interference detected!
Wikia is a free-to-use site that makes money from advertising. We have a modified experience for viewers using ad blockers

Wikia is not accessible if you've made further modifications. Remove the custom ad blocker rule(s) and the page will load as expected.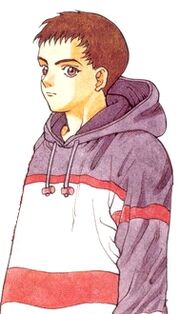 Satoshi Miroku (弥勒 聡, Miroku Satoshi) is a character in Ronde.
Appearances
Edit
Satoshi is the younger brother of Ronde's protagonist, Asuka Miroku. A second year high school student and seventeen year old at the beginning of the game, he has an incredibly childish personality. While visiting the Tokyo National Museum with his older brother, he gets too close to a crystal statue in the exhibit and ends up being abducted by the demon Moloch when it comes to life.
Stage 19 & 27Edit
| Race | Level | HP | MP | Movement | Move Type | Range | Arcana |
| --- | --- | --- | --- | --- | --- | --- | --- |
| | 25 | 250 | 0 | 5 | Ground | 1 | |
| Strength | Intellect | Magic | Vitality | Agility | Luck | Attack | Defense | Mag.Def. |
| --- | --- | --- | --- | --- | --- | --- | --- | --- |
| 11 | 14 | 12 | 10 | 8 | 10 | 135 | 47 | 54 |
Resistances
Sl
St
Rn
Fi
Ic
El
Li
Dk
Al
C
C
C
C
C
C
C
C
C
| Race | Level | HP | MP | Movement | Move Type | Range | Arcana |
| --- | --- | --- | --- | --- | --- | --- | --- |
| | 32 | 315 | 170 | 6 | Ground | 1 | Quake, Seal |
| Strength | Intellect | Magic | Vitality | Agility | Luck | Attack | Defense | Mag.Def. |
| --- | --- | --- | --- | --- | --- | --- | --- | --- |
| 13 | 15 | 13 | 12 | 8 | 11 | 178 | 74 | 58 |
Resistances
Sl
St
Rn
Fi
Ic
El
Li
Dk
Al
C
C
C
C
C
C
C
C
C