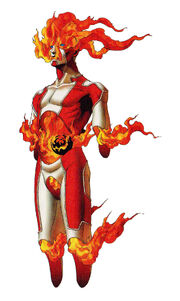 Saturnus (サトゥルヌス?) or Saturday (サタデー?) is a recurring demon in the series.
"The Roman god of agriculture. He is commonly identified with Cronus. In an attempt to prevent his destiny, he ate his children, but was overthrown as was fated."
—Compendium Info
Known as Saturn (Latin: Saturnus) the Roman god of agriculture and harvest. In ancient times, he was known for being the Roman god of agriculture, justice and strength. Saturnus is also identified as Cronus, the leader of the Titans from Greek mythology. He is the namesake for both the planet and Saturday. His mother was Gaia and his father was Ouranos. He was identified in classical antiquity and is famous for castrating Ouranos using a sickle, which lead to the birth of Venus.
Appearances
Edit
Biography
Edit
Persona 4 The AnimationEdit
Saturnus is the Persona representing the bond between Yu and Teddie. He was first summoned during the battle against Kunino-sagiri to protect Yu from fire attacks. However, Kunino-sagiri was able to possess Yu while still using Saturnus, who unleashed a barrage of Agidyne attacks on the team. Luckily, his attacks were blocked by Konohana Sakuya.
Devil Summoner: Soul HackersEdit
| Race | Level | HP | MP | St | In | Ma | En | Ag | Lu |
| --- | --- | --- | --- | --- | --- | --- | --- | --- | --- |
| Vile | 65 | 666 | 274 | 21 | 16 | 20 | 18 | 14 | 12 |

| CP | MAG Summon | Personality | P.ATK | P.HIT | B.DEF | AVD | M.ATK | M.HIT |
| --- | --- | --- | --- | --- | --- | --- | --- | --- |
| 26 | 2072 | Wild | 172 | 104 | 182 | 103 | 181 | 52 |
| Reflects | Absorbs | Void | Resists | Weak |
| --- | --- | --- | --- | --- |
| - | Fire | Expel, Death | - | - |
Giten Megami Tensei: Tokyo MokushirokuEdit
| Race | Alignment | Level | HP | MP | CP |
| --- | --- | --- | --- | --- | --- |
| Jirae | Neutral-Neutral | 10 | 106 | 41 | 17 |

| Intuition | Will Power | Magic | Intelligence | Divine Protection |
| --- | --- | --- | --- | --- |
| 9 | 10 | 7 | 8 | 14 |

| Strength | Stamina | Agility | Dexterity | Charm |
| --- | --- | --- | --- | --- |
| 15 | 16 | 13 | 13 | 7 |
Persona 3Edit
Arcana

Level

| | | |
| --- | --- | --- |
| Strength | 50 | |
| Magic | 56 | |
| Endurance | 42 | |
| Agility | 49 | |
| Luck | 50 | |

Star
74
| Inherit | Reflects | Absorbs | Block | Resists | Weak |
| --- | --- | --- | --- | --- | --- |
| Fire | - | Fire | Light | - | Ice |
List of Skills

Skill
Cost
Effect
Level
Maragidyne
24 SP
Deals heavy Fire damage to all foes.
Innate
Fire Amp
Passive
Greatly strengthens Fire attacks by 50%.
Innate
Evade Ice
Passive
Evasion rate tripled vs Ice attacks.
76
Growth 3
Passive
Persona gains full EXP while inactive.
78
Absorb Ice
Passive
Drains damage from Ice attacks.
79
Persona 3 FESEdit
Arcana

Level

| | | |
| --- | --- | --- |
| Strength | 52 | |
| Magic | 58 | |
| Endurance | 45 | |
| Agility | 52 | |
| Luck | 53 | |

Star
78
| Inherit | Reflects | Absorbs | Block | Resists | Weak |
| --- | --- | --- | --- | --- | --- |
| Fire | - | Fire | Light | - | Ice |
List of Skills

Skill
Cost
Effect
Level
Maragidyne
24 SP
Deals heavy Fire damage to all foes.
Innate
Fire Amp
Passive
Greatly strengthens Fire attacks by 50%.
Innate
Evade Ice
Passive
Evasion rate tripled vs Ice attacks.
Innate
Growth 3
Passive
Persona gains full EXP while inactive.
80
Primal Force
21% HP
Deals severe Pierce damage to one foe.
82
Repel Ice
Passive
Reflects damage from Ice attacks.
83
Absorb Ice
Passive
Drains damage from Ice attacks.
84
Persona 4Edit
Arcana

Level

| | | |
| --- | --- | --- |
| Strength | 50 | |
| Magic | 57 | |
| Endurance | 36 | |
| Agility | 43 | |
| Luck | 49 | |

Star
75
| Inherit | Reflects | Absorbs | Block | Resists | Weak |
| --- | --- | --- | --- | --- | --- |
| Fire | - | Fire | Wind | - | Ice |
List of Skills

Skill
Cost
Effect
Level
Agidyne
12 SP
Deals heavy Fire damage to 1 foe.
Innate
Maragidyne
22 SP
Deals heavy Fire damage to all foes.
Innate
Fire Amp
Passive
Strengthens Fire attacks by 50%.
Innate
Evade Ice
Passive
Triples evasion rate against Ice attacks.
77
Growth 3
Passive
Persona gains full EXP while inactive.
79
Spell Master
Passive
Halves SP cost for magic skills.
81
Saturnus in Persona 4 The Animation
Saturnus when first summoned in Persona 4 Animation
Saturnus as it appears in Card Summoner