Ad blocker interference detected!
Wikia is a free-to-use site that makes money from advertising. We have a modified experience for viewers using ad blockers

Wikia is not accessible if you've made further modifications. Remove the custom ad blocker rule(s) and the page will load as expected.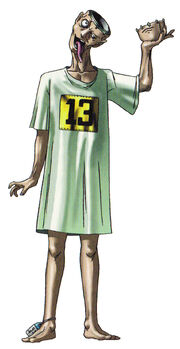 Scarecrow (かかし, Kakashi) or (スケアクロー) is a demon in the series.
Usually a human like figure or mannequin dressed in human clothes. They are typically used to scare away crows.
Appearances
Edit
DemiKids Light & DarkEdit
"

Thought cursed with a body of straw, this demon is blessed with intelligence.

"
—DemiKids Demonary
Known as Skare, he has the power Target. Skare can be obtained in Light Version by completing the second of Wartak's five quizzes.
Shin Megami Tensei: Devil SummonerEdit
| Strength | Intelligence | Magic | Endurance | Agility | Luck |
| --- | --- | --- | --- | --- | --- |
| 4 | 3 | 3 | 3 | 4 | 3 |
| Personality | Phys Attack | Phys Hit | Base Defense | Avoid | Mgc Attack | Mgc Defense |
| --- | --- | --- | --- | --- | --- | --- |
| Impatient | 14 | 9 | 12 | 8 | 7 | 6 |
DemiKids: Light/Dark VersionEdit
| Class | Element | Type | Exp | Level | HP | MP |
| --- | --- | --- | --- | --- | --- | --- |
| General | Wind | Fiend | 105 | 16 | 172 | 60 |

| ATK | DEF | MGC | RES | SPD | LCK |
| --- | --- | --- | --- | --- | --- |
| 15 | 10 | 15 | 11 | 12 | 11 |
List of Skills

Skill
Element
Cost
Effect
Cyclone
Wind
5 MP
Small dmg. 1 Foe
Silence
Dark
6 MP
Mute. 1 Foe
Heal All
Light
12 MP
Minor HP recovery. Party
Cycloburst
Wind
10 MP
Medium dmg. 1 Foe
Attract
Light
4 MP
Encounter Up. Party
Cyclodeus
Wind
8 MP
Small dmg. 2 Foes
Devil Children Fire/Ice BookEdit
| Class | Element | Type | Exp | Level | HP | MP |
| --- | --- | --- | --- | --- | --- | --- |
| General | Wind | Fiend | 105 | 16 | 172 | 60 |

| ATK | DEF | MGC | RES | SPD | LCK |
| --- | --- | --- | --- | --- | --- |
| 15 | 10 | 15 | 11 | 12 | 11 |