Ad blocker interference detected!
Wikia is a free-to-use site that makes money from advertising. We have a modified experience for viewers using ad blockers

Wikia is not accessible if you've made further modifications. Remove the custom ad blocker rule(s) and the page will load as expected.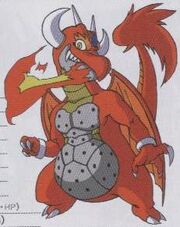 Sekiryuu (セキリュウ, Sekiryuu) or Hong Long (ホンロン, Honron) is a demon in the series.
In Japanese and Chinese mythology, red dragons are fiery dragons born from volcanoes or the sun itself. They are covered in deep red scales and have the ability to breathe fire.
Appearances
Edit
Devil Children Red/Black BookEdit
"

A dragon born from the burning sun, his red body also burns.

"
—Devil Children Red/Black Devidas
Giten Megami Tensei: Tokyo MokushirokuEdit
| CP | Intuition | Will Power | Magic | Intelligence | Divine Protection |
| --- | --- | --- | --- | --- | --- |
| 47 | 17 | 22 | 18 | 17 | 19 |

| Strength | Stamina | Agility | Dexterity | Charm |
| --- | --- | --- | --- | --- |
| 45 | 53 | 17 | 8 | 13 |
Devil Children: Black/Red BookEdit
| Class | Element | Type | Exp | Level | HP | MP |
| --- | --- | --- | --- | --- | --- | --- |
| General | Fire | Dragon | 735 | 42 | 430 | 190 |
| ATK | DEF | MGC | RES | SPD | LCK |
| --- | --- | --- | --- | --- | --- |
| 39 | 37 | 38 | 37 | 36 | 37 |
Devil Children Black Book/Red Book (PS)Edit
| Class | Element | Type | Exp | Level | HP | MP |
| --- | --- | --- | --- | --- | --- | --- |
| General | Fire | Dragon | 735 | 42 | 430 | 190 |
| ATK | DEF | MGC | RES | SPD | LCK |
| --- | --- | --- | --- | --- | --- |
| 39 | 37 | 38 | 37 | 36 | 37 |
Devil Children: White BookEdit
| Class | Element | Type | Exp | Level | HP | MP |
| --- | --- | --- | --- | --- | --- | --- |
| General | Fire | Dragon | 735 | 42 | 430 | 190 |
| ATK | DEF | MGC | RES | SPD | LCK |
| --- | --- | --- | --- | --- | --- |
| 39 | 37 | 38 | 37 | 36 | 37 |