Ad blocker interference detected!
Wikia is a free-to-use site that makes money from advertising. We have a modified experience for viewers using ad blockers

Wikia is not accessible if you've made further modifications. Remove the custom ad blocker rule(s) and the page will load as expected.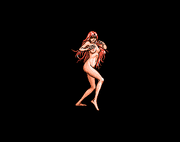 Shikijo Innen Rei (色情因縁霊, lit. Lust-bound Spirit) is a demon in the series.
Shikijo Innen Rei are spirits consumed by lustful grudges against the same or opposite gender. Although they cannot be seen, they can assault or harass the living. They are most commonly found in business districts, although there are incidents reported in residential and former red light districts. The earliest records of these spirits can be found in Kojiki and Nihon Shoki.
Appearances
Edit
Giten Megami Tensei: Tokyo MokushirokuEdit
| CP | Intuition | Will Power | Magic | Intelligence | Divine Protection |
| --- | --- | --- | --- | --- | --- |
| 22 | 10 | 16 | 16 | 11 | 7 |

| Strength | Stamina | Agility | Dexterity | Charm |
| --- | --- | --- | --- | --- |
| 9 | 13 | 16 | 10 | 13 |