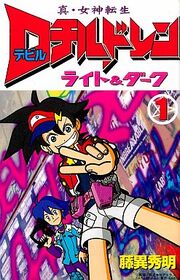 Shin Megami Tensei: D-Children: Light & Dark (真・女神転生Dチルドレンライト&ダーク) is a manga version of Shin Megami Tensei Devil Children: Light & Dark.
Light & Dark was created by Fujii Hideaki, who wrote the original Devil Children manga. Unlike the previous manga, this one took a lighter tone overall, though the later half revisited some of the darker tones of the first series. It was discontinued before reaching a natural conclusion and saw only a three volume tankoban release.
Characters
Edit
Ad blocker interference detected!
Wikia is a free-to-use site that makes money from advertising. We have a modified experience for viewers using ad blockers

Wikia is not accessible if you've made further modifications. Remove the custom ad blocker rule(s) and the page will load as expected.