Shin Megami Tensei: DeviChil (真・女神転生デビチル?) or  (also 데블파이터 in South Korea) is an anime series based on Devil Children Black Book and Devil Children Red Book. It was broadcasted on Chubu-Nippon Broadcasting Network starting on October 20, 2000 at 7:30AM and ran for 50 episodes.
A sequel was made in 2002, which was 52 episodes long. It was called Devil Children: Light & Dark. This was the last anime in the franchise before Persona -trinity soul-'s release.
Main Characters
Edit
Antagonists
Edit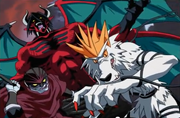 Lucifer - The main antagonist of the first half of the series. He plotted to take over both worlds.
Abaddon - Appears with Fenrir as one of Lucifer's minions.
Fenrir - An effeminate werewolf who used earthquake based attacks.
Later after Lucifer's defeat, three demons appeared and plotted to take over the Demon World.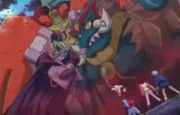 Ad blocker interference detected!
Wikia is a free-to-use site that makes money from advertising. We have a modified experience for viewers using ad blockers

Wikia is not accessible if you've made further modifications. Remove the custom ad blocker rule(s) and the page will load as expected.