Shin Megami Tensei: Strange Journey Original Soundtrack
Talk

0
Share
Ad blocker interference detected!
Wikia is a free-to-use site that makes money from advertising. We have a modified experience for viewers using ad blockers

Wikia is not accessible if you've made further modifications. Remove the custom ad blocker rule(s) and the page will load as expected.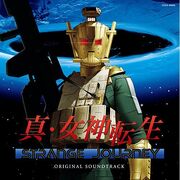 Shin Megami Tensei: Strange Journey Original Soundtrack is the soundtrack for the Nintendo DS game Shin Megami Tensei: Strange Journey. It was released on 18th November 2009 in Japan with the catalog number COCX-35945. The tracks are composed by Shoji Meguro.
In North American a condensed version was release with all launch copies of the game. This soundtrack had only ten tracks as opposed to the thirty-one tracks of the Japanese release.
Track List
Edit
Japanese Soundtrack
No.
Japanese Name
English Name
01
永遠の王座
Eternal Throne
02
終わりの始まり
The Beginning of the End
03
恐れ
Fear
04
焼け焦げた国
A Scorched Nation
05
祈り
Prayer
06
遊びふける国
A Frivolous Nation
07
遭遇
Encounter
08
敬虔な恐れ
The Fear of God
09
その結末
The End
10
買いあさる国
A Squandered Nation
11
悪事と善行
Malevolence and Benevolence
12
主の名において
In the Master's Name
13
激しい怒り
Vehement Rage
14
士気
Morale
15
腐りただれた国
A Rotten Nation
16
路を管する地
A Land Controlling Roads
17
その名にふさわしい栄誉
An Honor Befitting That Name
18
種の記される地
A Land Remembering Seeds
19
カオスのテーマ
Chaos Theme
20
暴虐の英雄
The Tyrannical Hero
21
カオスの世界
The World of Chaos
22
悦楽の宮殿
Palace of Pleasure
23
ロウのテーマ
Law Theme
24
神聖なる奇蹟
Holy Miracle
25
ロウの世界
The World of Law
26
命の起こる地
A Land Bringing About Life
27
悲しみ
Sorrow
28
切羽
Crisis
29
盾を取り、槍を高くかざせ
Take the Shield, Raise the Spear
30
人の世界
The World of Man
31
正義の笏
Scepter of Justice
English Soundtrack
No.
English Name
Length
01
The Eternal Throne
1:51
02
Beginning of the End
2:27
03
Kingdom of Decadence
1:57
04
Awe
2:41
05
Furious Wrath
2:51
06
Land of the Way
1:54
07
Chaos
2:08
08
Law
2:08
09
Land of Birth
3:22
10
Scepter of Justice
2:31