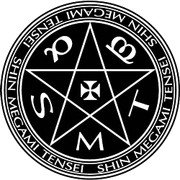 The Shin Megami Tensei series (真・女神転生, Shin Megami Tensei)? is the largest of the branches in the Megami Tensei franchise. It started with Shin Megami Tensei and maintains many of the traditional aspects of the original Megami Tensei. The "shin" (真) in the title translates to "true", but another Japanese character also called "shin" (新) means "new", and is a play on words in Japanese. Notably, Atlus USA attached the title of Shin Megami Tensei to all Megami Tensei franchise games they have released after the release of Shin Megami Tensei III: Nocturne, regardless of which series they originally belonged to, to help market the Megami Tensei franchise in the west.[1][2]
Main Games
Edit
Side Games
Edit
Mobile Phone Games
Edit
Manga Series
Edit
Card Game
Edit
References
Edit
↑ http://www.gameinformer.com/b/features/archive/2013/09/17/perfecting-persona-how-atlus-usa-bloomed.aspx
Ad blocker interference detected!
Wikia is a free-to-use site that makes money from advertising. We have a modified experience for viewers using ad blockers

Wikia is not accessible if you've made further modifications. Remove the custom ad blocker rule(s) and the page will load as expected.