Ad blocker interference detected!
Wikia is a free-to-use site that makes money from advertising. We have a modified experience for viewers using ad blockers

Wikia is not accessible if you've made further modifications. Remove the custom ad blocker rule(s) and the page will load as expected.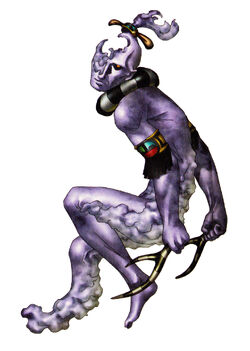 Shiwanna (シワンナ) is a recurring demon in the series.
Rain-bringing cloud spirits of Pueblo lore, they were believed to have traveled on rainbows. Associated with the dead, they lived in many places.
Appearances
Edit
Shin Megami Tensei IV ApocalypseEdit
"Spirits that are found in Native American Pueblo folklore. Their name means "cloud people."
It is said that humans become cloud people when they die. They are also said to live in mountains below lakes and oceans."
—Shin Megami Tensei IV Apocalypse compendium
Shiwanna can be found in most areas of Ginza. It can teach the Pandemic Bomb, Purple Smoke and Fog Breath skills through its Demon Whisper. Shiwanna benefits from learning Ice and ailment skills.
Shin Megami Tensei: Strange JourneyEdit
| Attack Type | | | | | | | | | |
| --- | --- | --- | --- | --- | --- | --- | --- | --- | --- |
| Single Foe/1/Physical/None | Strong | Strong | - | Weak | - | - | - | - | - |
| Poison | Paralyze | Stone | Strain | Sleep | Charm | Mute | Fear | Bomb | Rage |
| --- | --- | --- | --- | --- | --- | --- | --- | --- | --- |
| 100% | 100% | 100% | 100% | 100% | 100% | 100% | 100% | 100% | 100% |
D-Source Skills
Agilao
Resist Phys
Resist Gun
Password
vx9hJoku2Qgf-Hqg

BYipUo#9Aoih03jO
Shin Megami Tensei IVEdit
| Race | Level | HP | MP | ST | DX | MA | AG | LU |
| --- | --- | --- | --- | --- | --- | --- | --- | --- |
| Yoma | 38 | 336 | 151 | 44 | 44 | 44 | 44 | 44 |
| Phys | Gun | Fire | Ice | Elec | Force | Light | Dark |
| --- | --- | --- | --- | --- | --- | --- | --- |
| Resist | - | Weak | Drain | - | - | - | - |
Shin Megami Tensei IV ApocalypseEdit
Race

Level

HP

MP

| | | |
| --- | --- | --- |
| Strength | 44 | |
| Dexterity | 42 | |
| Magic | 47 | |
| Agility | 48 | |
| Luck | 43 | |

Yoma
38
329
131
| Phys | Gun | Fire | Ice | Elec | Force | Light | Dark |
| --- | --- | --- | --- | --- | --- | --- | --- |
| - | Resist | Weak | Null | - | - | - | Weak |
| | |
| --- | --- |
| Ailment Resistance | Resist:Panic/Daze, Weak:Sick |
| | |
| --- | --- |
| Normal Attack | Phys x1, 1 enemy |
List of Skills

Skill
Cost
Effect
Level
Pandemic Bomb
15 MP
70% sick to all foes.
Innate
Purple Smoke
22 MP
1 to 3 hits of medium physical damage and 70% panic to multiple foes.
Innate
Fog Breath
65 MP
Debuffs all foes' attack and agility by 1 level.
39
Spring of Life
Auto
Recovers HP gradually while moving. Inactive while in stock.
40
Devil Summoner: Soul HackersEdit
| Race | Level | HP | MP | CP | MAG Summon |
| --- | --- | --- | --- | --- | --- |
| Yoma | 32 | 256 | 120 | 7 | 508 |

| Strength | Intelligence | Magic | Endurance | Agility | Luck |
| --- | --- | --- | --- | --- | --- |
| 8 | 9 | 12 | 6 | 9 | 5 |
| Personality | Phys Attack | Phys Hit | Mgc Attack | Mgc Hit | Base Defense | Avoid |
| --- | --- | --- | --- | --- | --- | --- |
| Calm | 80 | 51 | 105 | 30 | 92 | 50 |
| Resist | Void | Absorb | Reflect | Weak |
| --- | --- | --- | --- | --- |
| - | - | - | Expel | Death |