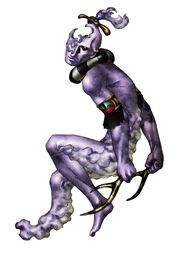 Shiwanna (シワンナ) is a recurring demon in the series.
"

Spirits that are found in Native American Pueblo folklore. Their name means "cloud people". It is said that humans become cloud people when they die. They are also said to live in mountains below lakes and oceans.

"
—Compendium Info
Rain-bringing cloud spirits of Pueblo lore, they were believed to have traveled on rainbows. Associated with the dead, they lived in many places.
Appearances
Edit
Shin Megami Tensei: Strange JourneyEdit
| Attack Type | | | | | | | | | |
| --- | --- | --- | --- | --- | --- | --- | --- | --- | --- |
| Single Foe/1/Physical/None | Strong | Strong | - | Weak | - | - | - | - | - |
| Poison | Paralyze | Stone | Strain | Sleep | Charm | Mute | Fear | Bomb | Rage |
| --- | --- | --- | --- | --- | --- | --- | --- | --- | --- |
| 100% | 100% | 100% | 100% | 100% | 100% | 100% | 100% | 100% | 100% |
D-Source Skills
Agilao
Resist Phys
Resist Gun
Password
vx9hJoku2Qgf-Hqg

BYipUo#9Aoih03jO
Shin Megami Tensei IVEdit
| Race | Level | HP | MP | ST | DX | MA | AG | LU |
| --- | --- | --- | --- | --- | --- | --- | --- | --- |
| Yoma | 38 | 336 | 151 | 44 | 44 | 44 | 44 | 44 |
| Phys | Gun | Fire | Ice | Elec | Force | Light | Dark |
| --- | --- | --- | --- | --- | --- | --- | --- |
| Resist | - | Weak | Drain | - | - | - | - |
Devil Summoner: Soul HackersEdit
| Race | Level | HP | MP | CP | MAG Summon |
| --- | --- | --- | --- | --- | --- |
| Yoma | 32 | 256 | 120 | 7 | 508 |

| Strength | Intelligence | Magic | Endurance | Agility | Luck |
| --- | --- | --- | --- | --- | --- |
| 8 | 9 | 12 | 6 | 9 | 5 |
| Personality | Phys Attack | Phys Hit | Mgc Attack | Mgc Hit | Base Defense | Avoid |
| --- | --- | --- | --- | --- | --- | --- |
| Calm | 80 | 51 | 105 | 30 | 92 | 50 |
| Resist | Void | Absorb | Reflect | Weak |
| --- | --- | --- | --- | --- |
| - | - | - | Expel | Death |