Ad blocker interference detected!
Wikia is a free-to-use site that makes money from advertising. We have a modified experience for viewers using ad blockers

Wikia is not accessible if you've made further modifications. Remove the custom ad blocker rule(s) and the page will load as expected.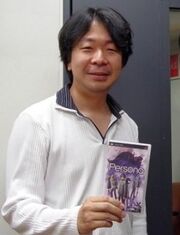 Shoji Meguro (目黒将司 Meguro Shōji), born June 4, 1971 in Tokyo, Japan is a video game music composer who joined Atlus in 1996 and has composed music mainly those in the Megami Tensei series.
Discography
Edit
Megami Ibunroku ~Persona~ (1997)
Devil Summoner: Soul Hackers Original Soundtrack (1998)
Megami Ibunroku Persona Be Your True Mind Original Soundtracks (1999)
Maken X original soundtracks (1999)
Shin Megami Tensei III Nocturne Original Soundtrack (2003)
Shin Megami Tensei III Nocturne Deluxe Pack Incense Disc (2003)
Shin Megami Tensei III Nocturne Maniacs Soundtrack extra version (2004)
Digital Devil Saga: Avatar Tuner Soundtrack CD (2004)
Digital Devil Saga: Avatar Tuner 1&2 Original Sound Track : Integral (2005)
Devil Summoner: Kuzunoha Raidō tai Chōriki Heidan Complete Music Works (2006)
Devil Summoner Sound Collection - Chōriki Sound Collection (2006)
Persona 3 Original Soundtrack (2006)
Megami Tensei Online Imagine Original Soundtrack (2007)
Burn My Dread -Reincarnation: Persona 3 - (2007)
Persona 3 Fes Original Soundtrack (2007)
Persona 4 Original Soundtrack (2008)
Devil Summoner: Kuzunoha Raidō tai Abaddon Ō Soundtrack (2008)
Persona Original Soundtrack CD (2009)
Persona 3 Portable Original Soundtrack (2009)
External links
Edit