Ad blocker interference detected!
Wikia is a free-to-use site that makes money from advertising. We have a modified experience for viewers using ad blockers

Wikia is not accessible if you've made further modifications. Remove the custom ad blocker rule(s) and the page will load as expected.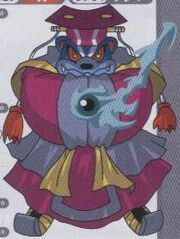 Shukuyuu (シュクユウ, Shukuyuu) is a demon in the series.
The Japanese name for Zhu Rong, the Chinese god of fire. He lives on a mountain and taught humans how to use fire. According to some legends, he was born as a child named Li and was the first man to discover fire.
Appearances
Edit
DemiKids: Light & DarkEdit
"

A very nasty fire-demon with a bestial face that strikes terror into the hearts of men.

"
—DemiKids Demonary
Known as Pyrosia in the game.
DemiKids: Light/Dark VersionEdit
| Class | Element | Type | Exp | Level | HP | MP |
| --- | --- | --- | --- | --- | --- | --- |
| General | Fire | Evil | 418 | 32 | 337 | 150 |

| ATK | DEF | MGC | RES | SPD | LCK |
| --- | --- | --- | --- | --- | --- |
| 26 | 24 | 31 | 26 | 24 | 23 |
List of Skills

Skill
Element
Cost
Effect
Pyroburst
Fire
10 MP
Medium dmg. 1 Foe
Fire Breath
Fire
23 HP
Small dmg. Foes
Magic Drain
Dark
30 HP
Large dmg +MP Drain. 1 Foe
Distract
Dark
6 MP
Tempt. 1 Foe
Mystic Bind
Dark
6 MP
Paralyze. 1 Foe
Venom Breath
Dark
35 HP
Large dmg +Poison. Foes
Devil Children Fire/Ice BookEdit
| Class | Element | Type | Exp | Level | HP | MP |
| --- | --- | --- | --- | --- | --- | --- |
| General | Fire | Evil | 418 | 32 | 337 | 150 |

| ATK | DEF | MGC | RES | SPD | LCK |
| --- | --- | --- | --- | --- | --- |
| 26 | 24 | 31 | 26 | 24 | 23 |
List of Skills

Agilao
Fire Breath
Kyuketsu
Marin Karin
Paralama
Poison Gas Breath