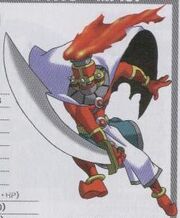 Shura Ou (シュラオー, Shuraoo) is a demon in the series.
King of the Shuras.
Appearances
Edit
Devil Children Red/Black BookEdit
A Shura Ou has lost his Shura Blade and is attempting to find it. When the Devil Children give him back his sword he joins the party. Shura Ou can also be obtained by rank fusing Shura.
Devil Children Red/Black BookEdit
| Class | Element | Type | Exp | Level | HP | MP |
| --- | --- | --- | --- | --- | --- | --- |
| King | Dark | Evil | 124 | 17 | 179 | 67 |
| ATK | DEF | MGC | RES | SPD | LCK |
| --- | --- | --- | --- | --- | --- |
| 16 | 14 | 16 | 14 | 15 | 15 |
Devil Children White BookEdit
| Class | Element | Type | Exp | Level | HP | MP |
| --- | --- | --- | --- | --- | --- | --- |
| King | Dark | Evil | 124 | 17 | 179 | 67 |
| ATK | DEF | MGC | RES | SPD | LCK |
| --- | --- | --- | --- | --- | --- |
| 16 | 14 | 16 | 14 | 15 | 15 |
Devil Children (PS)Edit
| Class | Element | Type | Exp | Level | HP | MP |
| --- | --- | --- | --- | --- | --- | --- |
| King | Dark | Evil | 124 | 17 | 179 | 67 |
| ATK | DEF | MGC | RES | SPD | LCK |
| --- | --- | --- | --- | --- | --- |
| 16 | 14 | 16 | 14 | 15 | 15 |