Ad blocker interference detected!
Wikia is a free-to-use site that makes money from advertising. We have a modified experience for viewers using ad blockers

Wikia is not accessible if you've made further modifications. Remove the custom ad blocker rule(s) and the page will load as expected.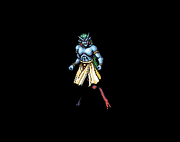 Silenus (シレーノス, Shirenosu) is a demon in the series.
The tutor and companion of the Greek god Dionysus. He was said to be the most drunk, wisest and oldest of all of the god´s companions and that he possessed the power of prophecy when drunk. Although most of Dionysus companions were satyrs, Silenus was not one of them but a sileni, a creature similar to a satyr but with horse features instead of goat ones.
Appearances
Edit
| CP | Intuition | Will Power | Magic | Intelligence | Divine Protection |
| --- | --- | --- | --- | --- | --- |
| 38 | 15 | 22 | 12 | 13 | 27 |

| Strength | Stamina | Agility | Dexterity | Charm |
| --- | --- | --- | --- | --- |
| 36 | 40 | 7 | 9 | |