Ad blocker interference detected!
Wikia is a free-to-use site that makes money from advertising. We have a modified experience for viewers using ad blockers

Wikia is not accessible if you've made further modifications. Remove the custom ad blocker rule(s) and the page will load as expected.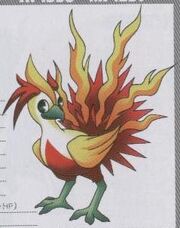 Simurgh (スィームルグ, Siimurugu) is a demon in the series.
Simurgh's other names are Angha, Kerkés, Semrug, Semurg, Samran and Samru. Simurgh is a mythical, benevolent bird from Persia lore. It appears as a type of peacock with the head of a dog/human face and the claws of a lion. The simurgh is always benevolent and female. Simurgh suckles her young, has a rivalry with snakes, and lives in areas with plenty of water. Iranian lore says that the Simurgh is so old she has seen the world be destroyed three times and has become so old that it accumulated all the knowledge throughout those ages. Another legend says that at 1700 years old she will burst into flame. The Simurgh was considered a purifying entity made between the earth and sky, whose role is to purify the land and waters. Simurgh makes her home in the tree Haoma and when she leaves the Haoma it's seeds are released from its branches, carried by the winds of Vayu-Vata and the rains of Tishtoriya.
Known as Sīmīr in Kurdish lore, one folktale has a hero rescue Simurgh's offspring by killing a snake that was crawling up the tree to feed upon them. As a reward, the Simurgh gives him three of her feathers which the hero can use to call her for help by burning them. In Sufi mysticism she is depicted as a metaphor for God. Known as Zumrud in Azeri folklore, she aids Malik Muhammad in his fight against a giant when he saves her children from a dragon.
Appearances
Edit
| Race | Level | HP | MP | Movement | Move Type | Range | Arcana |
| --- | --- | --- | --- | --- | --- | --- | --- |
| | 23 | 220 | 111 | 7 | Flight | 1 | Panic Voice |
| Strength | Intellect | Magic | Vitality | Agility | Luck | Attack | Defense | Mag.Def. |
| --- | --- | --- | --- | --- | --- | --- | --- | --- |
| 14 | 7 | 12 | 11 | 8 | 11 | 103 | 42 | 34 |
Resistances
Sl
St
Rn
Fi
Ic
El
Li
Dk
Al
B
B
D
H
C
B
B
B
C
Devil Children: Black/Red BookEdit
| Class | Element | Type | Exp | Level | HP | MP |
| --- | --- | --- | --- | --- | --- | --- |
| Elite | Wind | Alternate | | 48 | 536 | 237 |
| ATK | DEF | MGC | RES | SPD | LCK |
| --- | --- | --- | --- | --- | --- |
| 49 | 45 | 47 | 45 | 48 | 41 |
Devil Children: White BookEdit
| Class | Element | Type | Exp | Level | HP | MP |
| --- | --- | --- | --- | --- | --- | --- |
| Elite | Wind | Alternate | | 48 | 536 | 237 |
| ATK | DEF | MGC | RES | SPD | LCK |
| --- | --- | --- | --- | --- | --- |
| 49 | 45 | 47 | 45 | 48 | 41 |
Devil Children Black Book/Red Book (PS)Edit
| Class | Element | Type | Exp | Level | HP | MP |
| --- | --- | --- | --- | --- | --- | --- |
| Elite | Wind | Alternate | | 48 | 536 | 237 |
| ATK | DEF | MGC | RES | SPD | LCK |
| --- | --- | --- | --- | --- | --- |
| 49 | 45 | 47 | 45 | 48 | 41 |