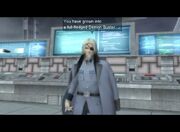 Snakeman (スネークマン, Suneekuman) is a non-player character from Shin Megami Tensei IMAGINE
Appearances
Profile
Snakeman is the Devil Buster in charge of Third Home, as well as the certification and training of new Devil Buster recruits. His constant demon companion is a Garm.
After the completion of ACT 5, he will tell the protagonist that he met a man called STEVEN, who also gave him his first COMP. He then gives the player his COMP: It has +1 Physical Defense and +3 Fusion Slots, making it a very valuable early/mid-level COMP.
Gallery
Ad blocker interference detected!
Wikia is a free-to-use site that makes money from advertising. We have a modified experience for viewers using ad blockers

Wikia is not accessible if you've made further modifications. Remove the custom ad blocker rule(s) and the page will load as expected.