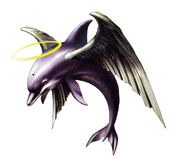 Snappy (スナッピー, Sunappii) is a demon in the series.
Appearances
Edit
Devil Summoner: Soul HackersEdit
Snappy is a demon collecting souls and has bewitched Tomoko, taking her soul into Paradigm X and put inside his painting Aqua Dolphin in the VR Art Museum. During the fight itself he absorbs magic and must be defeated by allowing him to absorb too much magic, which causes him to overload and die. The fact that he dies after absorbing too much magic, despite saying that he likes it is hinted earlier by a student who states that dolphins lie. A similar hint comes from talking to Puts or Garrote in the Ghost Waterfall painting, in the form of a tale he tells of a man who died from gorging on his favorite food without limit.
Devil Children: White BookEdit
"A cute dolphin with a halo on his head and angel wings. He deceives people and is always a liar."
—Devil Children: White Devidas
Card SummonerEdit
Snappy can be obtained by fusing Azumi with Jack Frost.
Devil Summoner: Soul HackersEdit
| Race | Level | HP | MP | CP | MAG Summon |
| --- | --- | --- | --- | --- | --- |
| Wilder | 32 | 1068 | 312 | - | - |

| Strength | Intelligence | Magic | Endurance | Agility | Luck |
| --- | --- | --- | --- | --- | --- |
| 7 | 12 | 8 | 9 | 7 | 6 |
| Personality | Phys Attack | Phys Hit | Mgc Attack | Mgc Hit | Base Defense | Avoid |
| --- | --- | --- | --- | --- | --- | --- |
| - | 78 | 51 | 82 | 32 | 98 | 51 |
| Resist | Void | Absorb | Reflect | Weak |
| --- | --- | --- | --- | --- |
| Phys | - | Magic | - | - |
Devil Children: Black/Red BookEdit
| Class | Element | Type | Exp | Level | HP | MP |
| --- | --- | --- | --- | --- | --- | --- |
| King | Water | Alternate | | 35 | 380 | 160 |
| ATK | DEF | MGC | RES | SPD | LCK |
| --- | --- | --- | --- | --- | --- |
| 35 | 30 | 27 | 29 | 31 | 26 |
Devil Children: White BookEdit
| Class | Element | Type | Exp | Level | HP | MP |
| --- | --- | --- | --- | --- | --- | --- |
| King | Water | Alternate | | 35 | 380 | 160 |
| ATK | DEF | MGC | RES | SPD | LCK |
| --- | --- | --- | --- | --- | --- |
| 35 | 30 | 27 | 29 | 31 | 26 |
Devil Children Black Book/Red Book (PS)Edit
| Class | Element | Type | Exp | Level | HP | MP |
| --- | --- | --- | --- | --- | --- | --- |
| King | Water | Alternate | | 35 | 380 | 160 |
| ATK | DEF | MGC | RES | SPD | LCK |
| --- | --- | --- | --- | --- | --- |
| 35 | 30 | 27 | 29 | 31 | 26 |
Card SummonerEdit
| Race | Level | Strong | Weak | Null | MAG |
| --- | --- | --- | --- | --- | --- |
| Youjuu | 45 | Ice | Fire | Wind | 115 |
| HP | MP | Power | Defense | Magic | Speed |
| 345 | 150 | 150 | 100 | 90 | 50 |