Ad blocker interference detected!
Wikia is a free-to-use site that makes money from advertising. We have a modified experience for viewers using ad blockers

Wikia is not accessible if you've made further modifications. Remove the custom ad blocker rule(s) and the page will load as expected.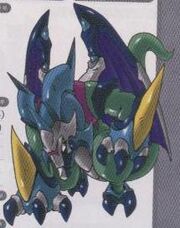 Solron, known as Soul Hei Long (ソウルヘイロン, Souruheiron) in Japan, is a demon in the series.
Appearances
Edit
DemiKids Light/Dark VersionEdit
"

A dark dragon aware that its destiny is to battle evil, armed with its sharp claws.

"
Gale evolves into this form if you let the power flow as Giga Rox or have him relax as Mega Rox, after retrieving the testament from the Dark Temple and defeating Bifronz. Can perform the light combo Ray Field with Marduk, which deals damage and has a chance of fainting foes for 40 MP. He can also perform the light combo Holy Slash with Aries, which deals damage on all foes for 25 MP.
DemiKids: Light/Dark VersionEdit
| Class | Element | Type | Exp | Level | HP | MP |
| --- | --- | --- | --- | --- | --- | --- |
| King | Dark | Myth | 835 | 45 | 478 | 210 |

| ATK | DEF | MGC | RES | SPD | LCK |
| --- | --- | --- | --- | --- | --- |
| 47 | 44 | 43 | 42 | 43 | 40 |
List of Skills

Skill
Element
Cost
Effect
Dark Howl
Dark
25 HP
Small dmg. Foes
Mega Cyclone
Wind
35 HP
Large dmg +ACC Down. Foes
Heal All
Light
12 MP
Minor HP recovery. Party
Revive
Light
18 MP
Revive. 1 Ally
Venom Breath
Dark
35 HP
Large dmg +Poison. Foes
Healmax
Light
20 MP
Full HP recovery. 1 Ally
Devil Children Fire/Ice BookEdit
| Class | Element | Type | Exp | Level | HP | MP |
| --- | --- | --- | --- | --- | --- | --- |
| King | Dark | Myth | 835 | 45 | 478 | 210 |

| ATK | DEF | MGC | RES | SPD | LCK |
| --- | --- | --- | --- | --- | --- |
| 47 | 44 | 43 | 42 | 43 | 40 |
List of Skills

Dark Howling
Mega Cyclone
Media
Recarm
Poison Gas Breath
Diarahan