Ad blocker interference detected!
Wikia is a free-to-use site that makes money from advertising. We have a modified experience for viewers using ad blockers

Wikia is not accessible if you've made further modifications. Remove the custom ad blocker rule(s) and the page will load as expected.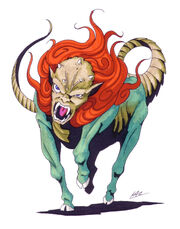 Souyou or Atsuyu (アツユ?) is a demon in the series.
Appearances
Edit
Yayu (窫窳) is a man-eating creature appears in the classic Chinese pandemonium Shanhaijing. It is described as having a body of panther and a dragon head. It was slain by the fierce beast god Erfu (貳負). In another later literature Huainanzi, Yayu was slain by Yi (羿) after the latter had shot down 9 of the 10 suns from the heaven during his heroic quest.
Shin Megami TenseiEdit
"

Origin: China. A man-eating beast living on Mt. Shaoxian. Its cry is similar to a baby's, and it eats humans that are lured to its sound. It has a red body resembling cow, a human head, and a horse's legs.

"
—Shin Megami Tensei A-Mode DDS Dictionary
Shin Megami TenseiEdit
| CP | NOA | ATK | ACC | DEF | EVA | M.ATK | M.EFC |
| --- | --- | --- | --- | --- | --- | --- | --- |
| 15 | ? | 74 | 17 | 31 | 13 | 6 | 5 |

| | | |
| --- | --- | --- |
| St | 21 | |
| In | 4 | |
| Ma | 5 | |
| Vi | 11 | |
| Ag | 12 | |
| Lu | 7 | |
| | | | |
| --- | --- | --- | --- |
| Resistances | Weak to Guns and Fire | Drop | Bead |
List of Skills

Skill
Cost
Effect
Agilao
7 MP
Attacks one enemy with strong flames.
Feral Bite
Extra
Bites one enemy. (Charge-type)
Tackle
Extra
Charges into an enemy and damages it. (Charge-type, low accuracy)
Last Bible IIIEdit
| Level | HP | MP | ATK | DEF | STR | INT | END | SPD | LUC |
| --- | --- | --- | --- | --- | --- | --- | --- | --- | --- |
| 26 | 271 | 98 | 86 | 45 | 19 | 9 | 18 | 15 | 8 |

| | | | |
| --- | --- | --- | --- |
| Equipment | Weapons, Accessory | Card Location | Solon |