Ad blocker interference detected!
Wikia is a free-to-use site that makes money from advertising. We have a modified experience for viewers using ad blockers

Wikia is not accessible if you've made further modifications. Remove the custom ad blocker rule(s) and the page will load as expected.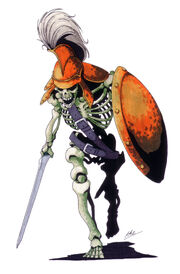 Spartoi (スパルトイ?) is a demon in the series.
In Greek legend, the Spartoi were an army of artificial men created from the teeth of a dragon to create a supernatural army of clones. Invariably, they are easily provoked into killing each other.
Appearances
Edit
Shin Megami TenseiEdit
"Origin: Romania. Skeleton berserkers that fight without end. Their name means 'sown ones,' and they grow from dragon's teeth planted like seeds. They are powerful, but will kill each other by mistake at times."
—Shin Megami Tensei A-Mode DDS Dictionary
Kyūyaku Megami TenseiEdit
Megami Tensei IIEdit
| Race | Level | HP | MP | VIT | INT | STR | SPD | LUC | DEF |
| --- | --- | --- | --- | --- | --- | --- | --- | --- | --- |
| Spirit | 38 | 288 | - | 15 | 13 | 17 | 10 | 7 | 5 |
List of Spells

Skill
Cost
Effect
Call Ally
-
Summon allies (enemy only)
Shin Megami TenseiEdit
| CP | NOA | ATK | ACC | DEF | EVA | M.ATK | M.EFC |
| --- | --- | --- | --- | --- | --- | --- | --- |
| 9 | 1 | 46 | 12 | 32 | 9 | 6 | 6 |

| | | |
| --- | --- | --- |
| St | 14 | |
| In | 5 | |
| Ma | 5 | |
| Vi | 14 | |
| Ag | 8 | |
| Lu | 5 | |
| | | | |
| --- | --- | --- | --- |
| Resistances | Weak to Elec | Drop | Gladius |
List of Skills

Skill
Cost
Effect
Sukukaja
2 MP
Raises the hit-rate of all party members.
Tarukaja
4 MP
Raises the attack of all party members.
Critical
Extra
Delivers a mighty blow against one enemy. (Dex-type)
Last Bible IIIEdit
| Level | HP | MP | ATK | DEF | STR | INT | END | SPD | LUC |
| --- | --- | --- | --- | --- | --- | --- | --- | --- | --- |
| 11 | 87 | 45 | 38 | 16 | 12 | 10 | 13 | 9 | 9 |

| | | | |
| --- | --- | --- | --- |
| Equipment | Arm, Armor, Accessory | Card Location | - |
Majin TenseiEdit
| Race | Level | HP | MP | Mv Range | Mv Type | Atk Type | CP |
| --- | --- | --- | --- | --- | --- | --- | --- |
| Jaki | 15 | 187 | 0 | 7 | Flat | Poison | 0 |

| Strength | Magic | Technique | Defense | Agility | Luck |
| --- | --- | --- | --- | --- | --- |
| 9 | 10 | 9 | 6 | 6 | 5 |
Majin Tensei II: Spiral NemesisEdit
| Race | Level | HP | MP | Mv Range | Mv Type | Atk Range | MAG |
| --- | --- | --- | --- | --- | --- | --- | --- |
| Jaki | 18 | 80 | 0 | 6 | Walk | 1 | 150 |

| St | Ma | In | Ag | Lu | Atk | P.Def | M.Atk | M.Def | Hit | Eva | Crt |
| --- | --- | --- | --- | --- | --- | --- | --- | --- | --- | --- | --- |
| 10 | 5 | 4 | 10 | 0 | 26 | 10 | 2 | 7 | 87 | 4 | 10 |
List of Skills

Skill
Power
Range
Cost
Target
Effect
Lullaby
0
1
M. Extra
Mutli
80% chance to inflict Sleep
Giten Megami Tensei: Tokyo MokushirokuEdit
| Race | Alignment | Level | HP | MP | CP |
| --- | --- | --- | --- | --- | --- |
| Touki | Neutral-Law | 19 | 255 | 90 | 28 |

| Intuition | Will Power | Magic | Intelligence | Divine Protection |
| --- | --- | --- | --- | --- |
| 15 | 16 | 12 | 12 | 13 |

| Strength | Stamina | Agility | Dexterity | Charm |
| --- | --- | --- | --- | --- |
| 27 | 24 | 14 | 12 | 9 |