Ad blocker interference detected!
Wikia is a free-to-use site that makes money from advertising. We have a modified experience for viewers using ad blockers

Wikia is not accessible if you've made further modifications. Remove the custom ad blocker rule(s) and the page will load as expected.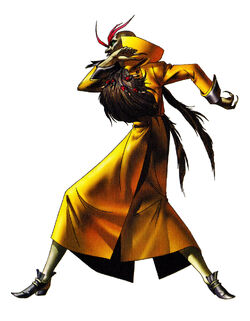 Strigoii (ストリゴイイ, Sutorogoii) is a recurring demon in the series.
Meaning "poltergeist," Strigoi are known as troubled souls of the dead who rose from the grave and immortal vampires in Romanian lore. Certain Strigoi can actually be living humans who gained magical powers. The Strigoi have the ability to transform into an animal, invisibility, and the propensity to drain the vitality of victims via blood loss. They are believed to have originated from Dacian mythology, which has Strigoi as the evil and unworthy spirits of the dead that are not allowed into the Kingdom of Zalmoxis.
Appearances
Edit
Shin Megami Tensei: Strange JourneyEdit
"

A common vampire found in Romania that are also called "dead vampires." They commonly have red hair, blue eyes, and two hearts. Those who commit suicide, witches, criminals, and perjurers make good Strigoii after death.

"
—Shin Megami Tensei: Strange Journey Compendium
Shin Megami Tensei IV ApocalypseEdit
Strigoii may be found within the Kinshi Park area of Kinshicho. It can be used as the initial source of the Mudo skill.
Shin Megami Tensei: Devil SummonerEdit
Sent by Sid Davis to kidnap Kumiko Hatano, Strigoi is fought alongside with Strix.
Shin Megami Tensei: Strange JourneyEdit
Race

Alignment

Level

HP

MP

| | | |
| --- | --- | --- |
| Strength | 34 | |
| Magic | 25 | |
| Vitality | 30 | |
| Agility | 30 | |
| Luck | 26 | |

Haunt
Dark-Chaos
45
385
198
| Attack Type | | | | | | | | | |
| --- | --- | --- | --- | --- | --- | --- | --- | --- | --- |
| Single Fee/1/Physical/None | - | - | Weak | - | Strong | Strong | Weak | Null | - |
| Poison | Paralyze | Stone | Strain | Sleep | Charm | Mute | Fear | Bomb | Rage |
| --- | --- | --- | --- | --- | --- | --- | --- | --- | --- |
| - | - | - | - | - | - | - | - | - | - |
D-Source Skills
Life Drain
Resist Elec
Resist Wind
Item Drops
Haunt Jacket
Life Stone
Bead
Password
nwBv49$Q#07CBe$J

W9g$Ye2GWA$FW93r
Shin Megami Tensei IVEdit
Race

Level

HP

MP

| | | |
| --- | --- | --- |
| Strength | 12 | |
| Dexterity | 12 | |
| Magic | 12 | |
| Agility | 14 | |
| Luck | 12 | |

Ghost
6
76
72
| Phys | Gun | Fire | Ice | Elec | Force | Light | Dark |
| --- | --- | --- | --- | --- | --- | --- | --- |
| - | - | Weak | - | Resist | Resist | Weak | Resist |
| | |
| --- | --- |
| Normal Attack | Phys x1, 1 enemy |
List of Skills

Skill
Cost
Effect
Level
Life Drain
5 MP
Drains small amount of HP from one foe.
Innate
Mudo
6 MP
30% instantly kills one foe. Dark-type.
Innate
Resist Light
Auto
Reduces chance of light fatal attack.
12
Shin Megami Tensei IV ApocalypseEdit
Race

Level

HP

MP

| | | |
| --- | --- | --- |
| Strength | 12 | |
| Dexterity | 12 | |
| Magic | 10 | |
| Agility | 15 | |
| Luck | 14 | |

Ghost
6
81
55
| Phys | Gun | Fire | Ice | Elec | Force | Light | Dark |
| --- | --- | --- | --- | --- | --- | --- | --- |
| - | Weak | - | - | - | - | Weak | Resist |
| | |
| --- | --- |
| Normal Attack | Phys x1, 1 enemy |
List of Skills

Skill
Cost
Effect
Level
Life Drain
5 MP
Drains small amount of HP from one foe.
Innate
Poison Claw
9 MP
Medium physical damage and 70% poison to one foe.
Innate
Mudo
6 MP
Weak dark damage to one foe.

Smirk

+30% instant death
8
Shin Megami Tensei: Devil SummonerEdit
| Race | Level | HP | MP | St | In | Ma | Ag | Lu |
| --- | --- | --- | --- | --- | --- | --- | --- | --- |
| Haunt | 32 | 500 | 152 | 14 | 9 | 8 | 8 | 6 |

| NOA | P.ATK | P.HIT | B.DEF | AVD | M.ATK | M.DEF |
| --- | --- | --- | --- | --- | --- | --- |
| 1 | 92 | 60 | 84 | 59 | 20 | 32 |