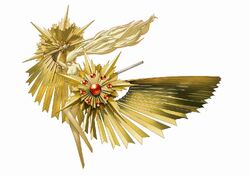 Sumeo-Okami (スメオオミカミ, Sume Ōmikami)? is a Persona in the series.
Appearance
Edit
"Sume-Omikami" (皇大御神) is an epithet for the goddess Amaterasu meaning "Imperial Great Goddess", referencing how the Emperors of Japan were traditionally held to be descendents of Amaterasu.
Persona 4 GoldenEdit
Yukiko Amagi's new Ultimate Persona after the player has maxed out her Social Link, and talked to her after 1/10.
Persona 4 GoldenEdit
Arcana

Level

| | | |
| --- | --- | --- |
| Strength | -- | |
| Magic | -- | |
| Endurance | -- | |
| Agility | -- | |
| Luck | -- | |

Priestess
Inherited
| Inherit | Reflects | Absorbs | Block | Resists | Weak |
| --- | --- | --- | --- | --- | --- |
| - | - | Fire | Elec | - | Ice |
List of Skills

Skill
Cost
Effect
Level
Dia
3 SP
Slightly restores 1 ally's HP.
Innate
Agi
4 SP
Deals light Fire damage to 1 foe.
Innate
Me Patra
6 SP
Dispels Confusion, Fear, and Rage (party).
Innate
Maragi
10 SP
Deals light Fire damage to all foes.
Innate
Media
7 SP
Slightly restores party's HP.
16
Agilao
8 SP
Deals medium Fire damage to 1 foe.
21
Recarm
8 SP
Revives 1 ally with 50% HP.
26
Fire Break
15 SP
Nullifies 1 foe's Fire resistance (for 3 turns).
30
Diarama
6 SP
Moderately restores 1 ally's HP.
33
Maragion
16 SP
Deals medium Fire damage to all foes.
39
Mediarama
12 SP
Moderately restores party's HP.
43
Fire Boost
Passive
Strengthens Fire attacks by 25%.
45
Agidyne
12 SP
Deals heavy Fire damage to 1 foe.
51
Diarahan
18 SP
Fully restores 1 ally's HP.
55
Samarecarm
18 SP
Revives 1 ally with full HP.
59
Mediarahan
30 SP
Fully restores party's HP.
65
Maragidyne
22 SP
Deals heavy Fire damage to all foes.
68
Salvation
40 SP
Fully restores party's HP. Cures ailments.
74
Fire Amp
Passive
Strengthens Fire attacks by 50%.
76
Burning Petals
34 SP
Deals severe fire damage to all foes.
Max SL Winter Event