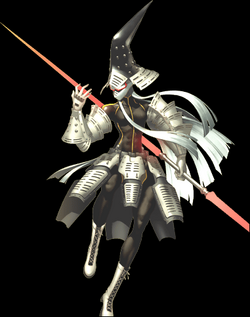 Suzuka Gongen (スズカゴンゲン?) is a Persona in the series.
Suzuka Gozen (鈴鹿御前?) is a legendary figure prominent in Japanese folktales of the Kamakura period. Her appearances also differ from one legend to another - some regarded her an ogress, a female bandit and as far as a goddess - and even her physical appearance varies.
Also known as Suzuka Gozen and Tate Eboshi, in "Tamura no Soushi" Suzuka Gongen is a warrior woman who married the king of Oni Akuro-Ou, but later falls in love with Sakanoue no Tamuramaro, the hero sent to exterminate them. Suzuka then betrays the Oni by killing Akuro-Ou's retainers and letting Tamuramaro enter the Oni's castle.
Appearances
Edit
Persona 4Edit
Suzuka Gongen is Chie Satonaka's Ultimate Persona that can be obtained by maximizing her Social Link. It inherits the stats from her initial Persona, Tomoe.
Persona 4Edit
Arcana

Level

| | | |
| --- | --- | --- |
| Strength | -- | |
| Magic | -- | |
| Endurance | -- | |
| Agility | +2 | |
| Luck | -- | |

Chariot
Inherited
| Inherit | Reflects | Absorbs | Block | Resists | Weak |
| --- | --- | --- | --- | --- | --- |
| - | - | - | Ice | - | - |
List of Skills

Skill
Cost
Effect
Level
Skewer
5% HP
Deals light Phys damage to 1 foe.
Innate
Tarukaja
12 SP
Increases 1 ally's Attack for 3 turns.
Innate
Bufu
4 SP
Deals light Ice damage to 1 foe.
7
Skull Cracker
9% HP
Deals light Phys damage to 1 foe with a chance of Confusion.
11
Mabufu
10 SP
Deals light Ice damage to all foes.
14
Rampage
12% HP
Deals light Phys damage to all foes 1x to 3x.
20
Assault Dive
9% HP
Deals light Phys damage to 1 foe.
22
Counter
Passive
10% chance of reflecting Phys attacks.
24
Gale Slash
12% HP
Deals light Phys damage to all foes.
29
Bufula
8 SP
Deals medium Ice damage to 1 foe.
33
Ice Boost
Passive
Strengthens Ice attacks by 25%.
36
Black Spot
16% HP
Deals medium Phys damage to 1 foe.
38
Counterstrike
Passive
15% chance of reflecting Phys attacks.
43
Heat Wave
16% HP
Deals medium Phys damage to all foes.
46
Power Charge
15 SP
Next physical attack will be 250% greater in power.
52
High Counter
Passive
20% chance of reflecting Phys attacks.
61
Rainy Death
20% HP
Deals heavy Phys damage to 1 foe.
67
God's Hand
22% HP
Deals severe Phys damage to 1 foe.
70
Agneyastra
24% HP
Deals heavy Phys damage to all foes 1x to 3x.
74
Arcana

Level

| | | |
| --- | --- | --- |
| Strength | -- | |
| Magic | -- | |
| Endurance | -- | |
| Agility | +2 | |
| Luck | -- | |

Chariot
Inherited
| Inherit | Reflects | Absorbs | Block | Resists | Weak |
| --- | --- | --- | --- | --- | --- |
| - | - | - | Ice | - | Fire |
List of Skills

Skill
Cost
Effect
Level
Skewer
5% HP
Deals light Phys damage to 1 foe.
Innate
Tarukaja
12 SP
Increases 1 ally's Attack for 3 turns.
Innate
Bufu
4 SP
Deals light Ice damage to 1 foe.
6
Skull Cracker
9% HP
Deals light Phys damage to 1 foe with a chance of Confusion.
11
Mabufu
10 SP
Deals light Ice damage to all foes.
14
Rampage
12% HP
Deals light Phys damage to all foes 1x to 3x.
20
Assault Dive
9% HP
Deals light Phys damage to 1 foe.
22
Counter
Passive
10% chance of reflecting Phys attacks.
24
Gale Slash
12% HP
Deals light Phys damage to all foes.
29
Apt Pupil
Passive
Increases user's Critical Rate.
33
Auto-Tarukaja
Passive
Automatic Tarukaja at the start of battle.
36
Black Spot
16% HP
Deals medium Phys damage to 1 foe.
38
Counterstrike
Passive
15% chance of reflecting Phys attacks.
43
Heat Wave
16% HP
Deals medium Phys damage to all foes.
46
Power Charge
15 SP
Next physical attack will be 250% greater in power.
52
High Counter
Passive
20% chance of reflecting Phys attacks.
61
Rainy Death
20% HP
Deals heavy Phys damage to 1 foe.
67
God's Hand
22% HP
Deals severe Phys damage to 1 foe.
70
Agneyastra
24% HP
Deals heavy Phys damage to all foes 1x to 3x.
74
Persona Q: Shadow of the LabyrinthEdit
Arcana

Level

| | | |
| --- | --- | --- |
| Strength | 64 | |
| Magic | 29 | |
| Endurance | 56 | |
| Agility | 41 | |
| Luck | 44 | |

Chariot
55
| Reflects | Absorbs | Void | Resists | Weak |
| --- | --- | --- | --- | --- |
| - | - | - | Ice, Light | Fire |
List of Skills

Skill
Cost
Effect
Level
Furious Fists
Passive
Greatly raise critical hit damage.
Innate
Brain Shake
112 HP
A heavy Bash attack, with medium chance of Sleep. (1 enemy)
Inherit
Power Charge
40 SP
Nearly triple the user's physical attack for next hit. Lasts 3 turns.
Inherit
Mind's Eye
68 SP
Raise critical hit rate for 3 turns. (Party)
Inherit
Arcana

Level

| | | |
| --- | --- | --- |
| Strength | 99 | |
| Magic | 58 | |
| Endurance | 82 | |
| Agility | 66 | |
| Luck | 70 | |

Chariot
99
| Reflects | Absorbs | Void | Resists | Weak |
| --- | --- | --- | --- | --- |
| - | - | - | Ice, Light | Fire |
List of Skills

Skill
Cost
Effect
Level
Furious Fists
Passive
Greatly raise critical hit damage.
Innate
Brain Shake
112 HP
A heavy Bash attack, with medium chance of Sleep. (1 enemy)
Inherit
Power Charge
40 SP
Nearly triple the user's physical attack for next hit. Lasts 3 turns.
Inherit
Mind's Eye
68 SP
Raise critical hit rate for 3 turns. (Party)
Inherit