Sylph
Talk

0
3,874pages on
this wiki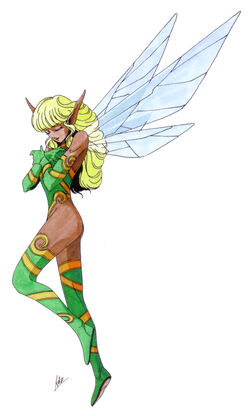 Sylph (シルフ?) is a demon in the series.
A air elemental known as Slyph is a mythological being first appearing in the alchemical works of Paracelsus. He describes sylphs as invisible beings of the air.
Appearances
Edit
Megami Tensei IIEdit
A Sylph is needed to free the frozen Sword Knight in the Lost Woods.
Shin Megami Tensei: Strange JourneyEdit
"One of the four elemental spirits of Paracelsus, it is a wind spirit that resembles a beautiful girl.
The name Sylph is derived from the Latin "silva," meaning forest, and it is thought that they came from Nymphs of Greek lore. They are often referred to by the female name Sylpheed. As air spirits, they can disappear and cause gentle breezes with their voices."
—Shin Megami Tensei: Strange Journey Compendium
Persona 2Edit
Sylph is a Fusion Spell in both Innocent Sin and Eternal Punishment, summoned by using any wind skill and the Summon Spirits skill in the former and Dangerous Garula and Summon Spirits in the latter.
Persona 4Edit
"

A cheerful, mischief-loving spirit that governs air. Since belief in it dates back generations, many have tried to find a real Sylph.

"
—Persona 4 Compendium
Sylph can be acquired through Shuffle Time in the Steamy Bathhouse. Its innate possession of the Sukukaja skill means it is a good choice for fusion to create an Ippon-Datara with this skill, vital for advancing the Empress Arcana Social Link with Margaret.
DemiKids Light & DarkEdit
"

A maiden spirit of the winds who hopes to some day find a partner to share her life.

"
Sylph can perform the combo Ice Wind with Apsaras or Bibisana. Sylph also has the power Windboost.
Megami Tensei IIEdit
| Formations | CP | Macca | Item Drops |
| --- | --- | --- | --- |
| - | - | - | - |

| Stamina | Intelligence | Attack | Agility | Defense | Luck |
| --- | --- | --- | --- | --- | --- |
| 9 | 13 | 6 | 8 | 6 | 12 |
Shin Megami TenseiEdit
| NOH | Strength | Intelligence | Magic | Vitality | Agility | Luck |
| --- | --- | --- | --- | --- | --- | --- |
| 1 - 3 | 13 | 14 | 11 | 7 | 22 | 8 |

| Attack | Hit | Defense | Evasion | MPower | MEffect | Drop |
| --- | --- | --- | --- | --- | --- | --- |
| 47 | 25 | 20 | 24 | 13 | 15 | None |
| | |
| --- | --- |
| Resistances | Resists Expel and Bind |
List of Skills
Skill
Cost
Effect
Bufula
8 MP
Attack one enemy with strong ice, freezing it
Mazio
7 MP
Strikes multiple enemies with lightning
Pulinpa
2 MP
Causes multiple enemies to go into a panic
Shin Megami Tensei IIEdit
| Strength | Intelligence | Magic | Stamina | Agility | Luck |
| --- | --- | --- | --- | --- | --- |
| 6 | 11 | 10 | 5 | 12 | 6 |

| NOH | Attack | Hit | Defense | Avoid | MPower | MEffect |
| --- | --- | --- | --- | --- | --- | --- |
| 1 | 68 | 57 | 66 | 58 | 12 | 13 |
Shin Megami Tensei: if...Edit
| Strength | Intelligence | Magic | Stamina | Agility | Luck |
| --- | --- | --- | --- | --- | --- |
| 8 | 11 | 9 | 5 | 12 | 6 |

| NOA | Attack | Hit | Defense | Avoid | MPower | MEffect |
| --- | --- | --- | --- | --- | --- | --- |
| 1 | 64 | 51 | 58 | 52 | 11 | 13 |
Shin Megami Tensei: Strange JourneyEdit
| Attack Type | | | | | | | | | |
| --- | --- | --- | --- | --- | --- | --- | --- | --- | --- |
| Single Foe/1/Physical/None | - | - | - | - | - | Null | Null | Null | - |
| Poison | Paralyze | Stone | Strain | Sleep | Charm | Mute | Fear | Bomb | Rage |
| --- | --- | --- | --- | --- | --- | --- | --- | --- | --- |
| 100% | 100% | 100% | 100% | 100% | 100% | 100% | 100% | 100% | 100% |
D-Source Skills
Garudyne
Sukunda
-
Password
F8upEoaJEpivEpmg

ExexCQjxiZi4EpkX
Shin Megami Tensei IVEdit
| Race | Level | HP | MP | ST | DX | MA | AG | LU |
| --- | --- | --- | --- | --- | --- | --- | --- | --- |
| Element | 28 | 266 | 118 | 34 | 31 | 31 | 41 | 34 |
| Phys | Gun | Fire | Ice | Elec | Force | Light | Dark |
| --- | --- | --- | --- | --- | --- | --- | --- |
| - | - | - | - | Weak | Repel | Null | Null |
Last BibleEdit
| Level | HP | MP | Endurance |
| --- | --- | --- | --- |
| 30 | 246 | 82 | 13 |

| Intelligence | Strength | Speed | Luck |
| --- | --- | --- | --- |
| 19 | 13 | 15 | 9 |
| Level | HP | MP | Endurance |
| --- | --- | --- | --- |
| 32 | 278 | 126 | 13 |
| Intelligence | Strength | Speed | Luck |
| --- | --- | --- | --- |
| 19 | 19 | 13 | 11 |
Last Bible IIIEdit
| Level | HP | MP | Attack | Defense |
| --- | --- | --- | --- | --- |
| 16 | 122 | 65 | 44 | 27 |

| Strength | Endurance | Intelligence | Speed | Luck |
| --- | --- | --- | --- | --- |
| 11 | 12 | 12 | 12 | 10 |
| | | | |
| --- | --- | --- | --- |
| Equipment | Arm, Armor, Accessory | Card Location | - |
Majin TenseiEdit
| Race | Level | HP | MP | Movement | Move Type | Attack Type |
| --- | --- | --- | --- | --- | --- | --- |
| Fairy | 11 | 102 | 90 | 7 | Forest | Normal |
| Strength | Magic | Technique | Defense | Agility | Luck | CP |
| --- | --- | --- | --- | --- | --- | --- |
| 6 | 8 | 6 | 6 | 5 | 8 | 6 |
Majin Tensei II: Spiral NemesisEdit
| Race | Level | HP | MP | Movement | Move Type | Range |
| --- | --- | --- | --- | --- | --- | --- |
| Element | 12 | 41 | 50 | 6 | Walk | 1 |

| Strength | Wisdom | Magic | Defense | Agility | Luck | MAG |
| --- | --- | --- | --- | --- | --- | --- |
| 3 | 9 | 14 | 2 | 11 | 15 | - |

| Attack | Phys Defense | Magic Attack | Magic Defense | Hit | Avoid | Critical |
| --- | --- | --- | --- | --- | --- | --- |
| 11 | 5 | 22 | 19 | 90 | 11 | 7 |
Shin Megami Tensei: Devil SummonerEdit
| Strength | Intelligence | Magic | Endurance | Agility | Luck |
| --- | --- | --- | --- | --- | --- |
| 6 | 10 | 7 | 5 | 11 | 5 |
| Personality | Phys Attack | Phys Hit | Base Defense | Avoid | Mgc Attack | Mgc Defense |
| --- | --- | --- | --- | --- | --- | --- |
| Insightful | 60 | 49 | 58 | 50 | 19 | 25 |
Devil Summoner: Soul HackersEdit
| Strength | Intelligence | Magic | Endurance | Agility | Luck |
| --- | --- | --- | --- | --- | --- |
| 4 | 5 | 5 | 4 | 11 | 8 |
| Personality | Phys Attack | Phys Hit | Mgc Attack | Mgc Hit | Base Defense | Avoid |
| --- | --- | --- | --- | --- | --- | --- |
| Calm | 48 | 34 | 44 | 14 | 64 | 34 |
| Resist | Void | Absorb | Reflect | Weak |
| --- | --- | --- | --- | --- |
| - | Expel | - | Force | - |
Alternate design (3DS ver.)
Edit
| Strength | Intelligence | Magic | Endurance | Agility | Luck |
| --- | --- | --- | --- | --- | --- |
| 4 | 7 | 7 | 4 | 12 | 11 |
| Personality | Phys Attack | Phys Hit | Mgc Attack | Mgc Hit | Base Defense | Avoid |
| --- | --- | --- | --- | --- | --- | --- |
| Kind | 50 | 51 | 63 | 20 | 66 | 48 |
| Resist | Void | Absorb | Reflect | Weak |
| --- | --- | --- | --- | --- |
| - | Expel | - | Force | - |
Devil Summoner 2: Raidou Kuzunoha vs King AbaddonEdit
| Level | Order | HP | ST | MA | VI | LU | Conversation | Investigation |
| --- | --- | --- | --- | --- | --- | --- | --- | --- |
| 29 | Element | 391 | 9 | 17 | 9 | 13 | Sexy Voice | - |
| Resists | Block | Absorbs | Weak | Frail |
| --- | --- | --- | --- | --- |
| - | Fire, Death | Force | Ice, Electricity | - |
List of Skills

Skill
Cost
Effect
Level
Zanrati
15 MAG
Light Force damage in a three way spread. Has a moderate stun duration
Innate
Agirati
15 MAG
Light Fire damage in a three way spread. Has a moderate stun duration
30
Halve Death
Auto
Reduces Death damage by half and negates Death stun
Max Loyalty
Giten Megami Tensei: Tokyo MokushirokuEdit
| CP | Intuition | Will Power | Magic | Intelligence | Divine Protection |
| --- | --- | --- | --- | --- | --- |
| 32 | 20 | 17 | 24 | 19 | 27 |

| Strength | Stamina | Agility | Dexterity | Charm |
| --- | --- | --- | --- | --- |
| 17 | 21 | 17 | 12 | 25 |
Persona 4Edit
| Inherit | Resists | Block | Absorbs | Reflects | Weak |
| --- | --- | --- | --- | --- | --- |
| Wind | Wind | - | - | - | Electricity |
List of Skills

Skill
Cost
Effect
Level
Garu
4 SP
Inflicts a small amount of Wind damage on one enemy.
Innate
Sukukaja
12 SP
Increases an ally's Agility for 3 turns.
Innate
Me Patra
6 SP
Recover from Confusion, Fear and Rage. All allies.
Innate
Regenerate 1
Passive
Restores 2% of max HP on each turn, except for "1 More".
12
Media
7 SP
Recovers a small amount of HP to all allies. Can be used in the field.
13
Magaru
10 SP
Inflicts a small amount of Wind damage on all enemies.
14
Devil Children Black/Red BookEdit
| Class | Element | Type | Exp | Level | HP | MP |
| --- | --- | --- | --- | --- | --- | --- |
| Common | Wind | Ogre | 105 | 16 | 172 | 60 |
| ATK | DEF | MGC | RES | SPD | LCK |
| --- | --- | --- | --- | --- | --- |
| 15 | 15 | 13 | 13 | 10 | 13 |
Devil Children Black Book/Red Book (PS)Edit
| Class | Element | Type | Exp | Level | HP | MP |
| --- | --- | --- | --- | --- | --- | --- |
| Common | Wind | Ogre | 105 | 16 | 172 | 60 |
| ATK | DEF | MGC | RES | SPD | LCK |
| --- | --- | --- | --- | --- | --- |
| 15 | 15 | 13 | 13 | 10 | 13 |
Devil Children White BookEdit
| Class | Element | Type | Exp | Level | HP | MP |
| --- | --- | --- | --- | --- | --- | --- |
| Common | Wind | Ogre | 105 | 16 | 172 | 60 |
| ATK | DEF | MGC | RES | SPD | LCK |
| --- | --- | --- | --- | --- | --- |
| 15 | 15 | 13 | 13 | 10 | 13 |
DemiKids Light & DarkEdit
| Class | Element | Type | Exp | Level | HP | MP |
| --- | --- | --- | --- | --- | --- | --- |
| Common | Wind | Ogre | 105 | 16 | 172 | 60 |

| ATK | DEF | MGC | RES | SPD | LCK |
| --- | --- | --- | --- | --- | --- |
| 15 | 15 | 13 | 13 | 10 | 13 |
List of Skills

Skill
Element
Cost
Effect
Windburst
Wind
15 HP
Small dmg. 1 Foe
Cure
Light
6 MP
Cure. 1 Ally
Heal All
Light
12 MP
Minor HP recovery. Party
Pandemonium
Dark
6 MP
Confuse. 1 Foe
Silence
Dark
6 MP
Mute. 1 Foe
Cyclodeus
Wind
8 MP
Small dmg. 2 Foes
Devil Children Fire/Ice BookEdit
| Class | Element | Type | Exp | Level | HP | MP |
| --- | --- | --- | --- | --- | --- | --- |
| Common | Wind | Ogre | 105 | 16 | 172 | 60 |

| ATK | DEF | MGC | RES | SPD | LCK |
| --- | --- | --- | --- | --- | --- |
| 15 | 15 | 13 | 13 | 10 | 13 |
Devil Children Messiah RiserEdit
| Number | Element | Weakness | Type | Level | HP | MP |
| --- | --- | --- | --- | --- | --- | --- |
| 54 | Wind | Ice | | 22 | 200 | 80 |
| ATK | MGC | DEF | RES | SPD | Quick | Call | Spell |
| --- | --- | --- | --- | --- | --- | --- | --- |
| 6 | 20 | 2 | 8 | 12 | 40 | 15 | Mahazanma |
Sylph as she appears in Shin Megami Tensei: Devil Summoner
Sylph's alternate artwork
Artwork in Devil Children Red/Black Book
Sprite from Kyuuyaku Megami Tensei (Megami Tensei II)
Sylph as she appears in Shin Megami Tensei: Strange Journey
Portrait from Shin Megami Tensei: Strange Journey
Sprite from Majin Tensei
Sylph from Card Summoner