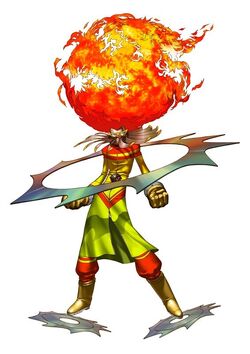 Takehaya Susano-o (タケハヤスサノオ, Takehaya Susano'o)? is a Persona in the series.
"Takehaya Susanō-no-Mikoto" (建速須佐之男命) is one of the long-form names given to Susanoo, the god of the Storm in the Kojiki. The "Takehaya" part translates as "Fast Building".
Appearance
Edit
Persona 4 GoldenEdit
Yosuke Hanamura's new Ultimate Persona after the player has maxed out his Social Link, and talked to him after 1/10.
Persona 4 GoldenEdit
Arcana

Level

| | | |
| --- | --- | --- |
| Strength | -- | |
| Magic | -- | |
| Endurance | -- | |
| Agility | -- | |
| Luck | -- | |

Magician
Inherited
| Inherit | Reflects | Absorbs | Block | Resists | Weak |
| --- | --- | --- | --- | --- | --- |
| - | - | Wind | Fire | - | Elec |
List of Skills

Skill
Cost
Effect
Level
Garu
4 SP
Deals light Wind damage to 1 foe.
Innate
Bash
6% HP
Deals light Phys damage to 1 foe.
Innate
Dia
3 SP
Slightly restores 1 ally's HP.
Innate
Sukukaja
12 SP
Increases 1 ally's Hit/Evasion rate for 3 turns.
5
Makajam
5 SP
Silences 1 foe (40% chance).
10
Sonic Punch
8% HP
Deals light Phys damage to 1 foe.
14
Magaru
10 SP
Deals light Wind damage to all foes.
18
Tentarafoo
12 SP
Confuses all foes (30% chance).
23
Garula
8 SP
Deals medium Wind damage to 1 foe.
29
Power Slash
14% HP
Deals medium Phys damage to 1 foe.
34
Magarula
16 SP
Deals medium Wind damage to all foes.
40
Wind Boost
Passive
Strengthens Wind attacks by 25%.
44
Wind Break
15 SP
Nullifies 1 foe's Wind resistance (for 3 turns).
49
Garudyne
12 SP
Deals heavy Wind damage to 1 foe.
53
Masukukaja
24 SP
Increases party's Hit/Evasion rate for 3 turns.
60
Magarudyne
22 SP
Deals heavy Wind damage to all foes.
64
Brave Blade
20% HP
Deals severe Phys damage to 1 foe.
69
Wind Amp
Passive
Strengthens Wind attacks by 50%.
73
Youthful Wind
25 SP
Moderately restores party's HP and
raises Hit/Evasion rate for 3 turns
Maxed SL Winter Event
Yosuke's "Youthful Wind" is reminiscent to the Protagonist's Cadenza from Persona 3