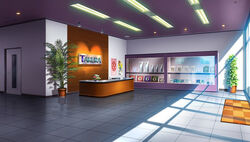 Takura Productions is a location in Persona 4: Dancing All Night.
Music: "Sign of Love"
Soundtrack: "Shadow World", "Junes Theme", "Shadow World" (ATLUS Kozuka Remix), "Heartbeat, Heartbreak" (TOWA TEI Remix), "Specialist" ("Never More" ver.) 
Dancer: Kanami Mashita, Nanako Dojima, and Yu Narukami
Takura Productions is a production company and practice studio for idols and dancers, production, and training for upcoming concert.