Tan-Ki
Talk

0
3,869pages on
this wiki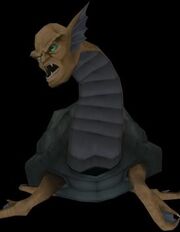 Tan-Ki (タンキ), known as Dan Gui in Chinese, is a demon in the series.
A sacred creature born from the aura and essence of the earth, the Tan-Ki is named in numerous legends, but there is no authoritative source describing its appearance and features. Thus, it is unclear what the Tan-Ki actually looks like.
Appearances
Edit
Shin Megami Tensei IMAGINEEdit
Tan-Ki can be encountered within Suginami Tunnels' gold instance, Nakano Stone Site's gold instance, and in Ikebukuro.
Shin Megami TenseiEdit
| NOH | Strength | Intelligence | Magic | Vitality | Agility | Luck |
| --- | --- | --- | --- | --- | --- | --- |
| 4 | 15 | 6 | 7 | 17 | 5 | 5 |

| Attack | Hit | Defense | Evasion | MPower | MEffect | Drop |
| --- | --- | --- | --- | --- | --- | --- |
| 49 | 9 | 38 | 6 | 8 | 7 | Bead |
| | |
| --- | --- |
| Resistances | Weak to Guns and Fire |
List of Skills
Skill
Cost
Effect
Sukukaja
2 MP
Raises the hit rate of all party members
Squash
Extra
Crushes one enemy
Water Wall
Extra
Creates a shield that negates fire magic
Last Bible IIIEdit
| Level | HP | MP | Attack | Defense |
| --- | --- | --- | --- | --- |
| 35 | 395 | 225 | 85 | 55 |

| Strength | Endurance | Intelligence | Speed | Luck |
| --- | --- | --- | --- | --- |
| 19 | 20 | 9 | 17 | 10 |
| | | | |
| --- | --- | --- | --- |
| Equipment | Can't Equip | Card Location | Susa Windmill |
Majin TenseiEdit
| Race | Level | HP | MP | Movement | Move Type | Attack Type |
| --- | --- | --- | --- | --- | --- | --- |
| Beast | 15 | 162 | 0 | 8 | Forest | |

| Strength | Magic | Technique | Defense | Agility | Luck | CP |
| --- | --- | --- | --- | --- | --- | --- |
| 10 | 7 | 8 | 7 | 7 | 6 | 9 |
Majin Tensei II: Spiral NemesisEdit
| Race | Level | HP | MP | Movement | Move Type | Range |
| --- | --- | --- | --- | --- | --- | --- |
| Beast | 6 | 35 | 0 | 10 | Walk | 1-2 |

| Strength | Wisdom | Magic | Defense | Agility | Luck | MAG |
| --- | --- | --- | --- | --- | --- | --- |
| 7 | 7 | 5 | 6 | 13 | 5 | 180 |

| Attack | Phys Defense | Magic Attack | Magic Defense | Hit | Avoid | Critical |
| --- | --- | --- | --- | --- | --- | --- |
| 18 | 8 | 4 | 11 | 90 | 8 | 12 |
Last BibleEdit
| Level | HP | MP | Endurance |
| --- | --- | --- | --- |
| 6 | 24 | 26 | 11 |

| Intelligence | Strength | Speed | Luck |
| --- | --- | --- | --- |
| 7 | 7 | 7 | 7 |
Digital Devil Saga: Avatar TunerEdit
| Level | Race | HP | MP | Drops |
| --- | --- | --- | --- | --- |
| 42 | Dragon | 600 | 264 | |
| Resists | Void | Absorbs | Reflects | Weak |
| --- | --- | --- | --- | --- |
| Physical | - | - | - | Earth, Ailments |
List of Skills

Skill
Effect
Materadyne
Heavy Earth damage to all enemies
Sonic Wave
Chance of Panic to all enemies
Hell Thrust
Light Physical damage to a single enemy
Mind Scream
Moderate Physical damage to all enemies with a chance of stun
Digital Devil Saga: Avatar Tuner 2Edit
| Level | Race | HP | MP | Drops |
| --- | --- | --- | --- | --- |
| 27 | Dragon | 228 | 188 | |
| Resists | Void | Absorbs | Reflects | Weak |
| --- | --- | --- | --- | --- |
| Physical, Gun, Panic | Fire | - | - | Earth |
List of Skills

Skill
Effect
Hell Thrust
Physical damage, 1 enemy
Sonic Wave
Inflicts Panic, all enemies
Spell Gloom
Magic Attack lowered greatly, all enemies
Counter
Low chance to counter Physical attacks for low damage