Ad blocker interference detected!
Wikia is a free-to-use site that makes money from advertising. We have a modified experience for viewers using ad blockers

Wikia is not accessible if you've made further modifications. Remove the custom ad blocker rule(s) and the page will load as expected.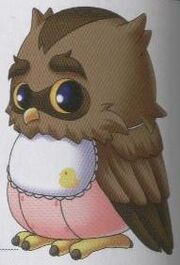 Tatari Mokke (タタリモッケ) is a demon in the series.
In Japanese Mythology, Tatari Mokke were spirits of small children that were killed by the hands of their parents, who couldn't afford to feed them, and were reborn as owls. It is believed that an owl's hooting was in fact a child's cry.
Appearances
Edit
DemiKids: Light & DarkEdit
"

Baby owl demon with a cry that is frequently mistaken for that of a human infant.

"
—DemiKids Demonary
Known as Hooty in the games.
Devil Children Red/Black BookEdit
| Class | Element | Type | Exp | Level | HP | MP |
| --- | --- | --- | --- | --- | --- | --- |
| Elite | Light | Good | 16 | 6 | 73 | 26 |
| ATK | DEF | MGC | RES | SPD | LCK |
| --- | --- | --- | --- | --- | --- |
| 10 | 8 | 7 | 6 | 8 | 6 |
Devil Children White BookEdit
| Class | Element | Type | Exp | Level | HP | MP |
| --- | --- | --- | --- | --- | --- | --- |
| Elite | Light | Good | 16 | 6 | 73 | 26 |
| ATK | DEF | MGC | RES | SPD | LCK |
| --- | --- | --- | --- | --- | --- |
| 10 | 8 | 7 | 6 | 8 | 6 |
Devil Children Red/Black Book (PS)Edit
| Class | Element | Type | Exp | Level | HP | MP |
| --- | --- | --- | --- | --- | --- | --- |
| Elite | Light | Good | 16 | 6 | 73 | 26 |
| ATK | DEF | MGC | RES | SPD | LCK |
| --- | --- | --- | --- | --- | --- |
| 10 | 8 | 7 | 6 | 8 | 6 |
DemiKids Light & DarkEdit
| Class | Element | Type | Exp | Level | HP | MP |
| --- | --- | --- | --- | --- | --- | --- |
| Elite | Light | Bird | | 4 | 57 | 25 |

| ATK | DEF | MGC | RES | SPD | LCK |
| --- | --- | --- | --- | --- | --- |
| 8 | 7 | 8 | 7 | 6 | 6 |
List of Skills

Skill
Element
Cost
Effect
Glow
Light
10 MP
Small dmg. 1 Foe
Pyro
Fire
5 MP
Small dmg. 1 Foe
Defboost
Light
6 MP
DEF Up. Party
Heal
Light
5 MP
Minor HP recovery. 1 Ally
Cyclodeus
Wind
8 MP
Small dmg. 2 Foes
Teleport
Light
10 MP
Teleport Party
Devil Children: Fire/Ice BookEdit
| Class | Element | Type | Exp | Level | HP | MP |
| --- | --- | --- | --- | --- | --- | --- |
| Elite | Light | Bird | | 4 | 57 | 25 |

| ATK | DEF | MGC | RES | SPD | LCK |
| --- | --- | --- | --- | --- | --- |
| 8 | 7 | 8 | 7 | 6 | 6 |
Devil Children Messiah RiserEdit
| Number | Element | Weakness | Type | Level | HP | MP |
| --- | --- | --- | --- | --- | --- | --- |
| 33 | Light | Dark | Bird | 4 | 60 | 30 |
| ATK | MGC | DEF | RES | SPD | Quick | Call | Spell |
| --- | --- | --- | --- | --- | --- | --- | --- |
| 8 | 10 | 0 | 0 | 17 | 26 | 4 | Poisma |