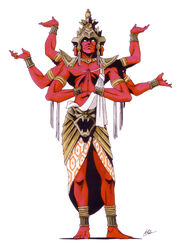 The Tenma (天魔, lit. "Heavenly Demon") is a race of demons in the Megami Tensei series. The Tenma serves as a counterbalance to the Majin (Deity), and in comparison to the easygoing personalities of the Majin, they are strict with both themselves and others. Often Tenma are guardian or protector deities a level above the Kishin. Most of them are all from East Asian mythology or Hindu mythology. The Tenma race did not recur after Majin Tensei II and few demons in this category were transferred to Fury race in the later installments.
Appearances
Edit
List of Demons
Edit
Shin Megami TenseiEdit
Majin Tensei II: Spiral NemesisEdit
Ad blocker interference detected!
Wikia is a free-to-use site that makes money from advertising. We have a modified experience for viewers using ad blockers

Wikia is not accessible if you've made further modifications. Remove the custom ad blocker rule(s) and the page will load as expected.