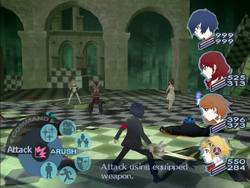 Thebel (世俗の庭テベル, Sezoku-no niwa Teberu lit. Garden of Worldliness Thebel) is the first block of Tartarus in Persona 3.
Thebel is available for exploration from the beginning. It has 15 floors, that go from 2F to 16F. The preset floors are 5F, 10F and 14F. Visually it is bathed in dark green shades with checkerboard, sometimes blood covered flooring and solid walls. The battlefield features additional stone arches.
"Thebel"/"Thevel" (תֵּבֵל) means "world" in Hebrew. It is also the name of the seventh world created in Kabbalah tradition, sometimes also called Heled (חֶלֶד). According to Kabbalah, this is the name of the last world created, in which modern humans live.
Shuffle Time Persona
Edit
Note:
* A White box denotes a rare Gold Shadow.
Guardians
Edit
Items of Interest
Edit
Ad blocker interference detected!
Wikia is a free-to-use site that makes money from advertising. We have a modified experience for viewers using ad blockers

Wikia is not accessible if you've made further modifications. Remove the custom ad blocker rule(s) and the page will load as expected.