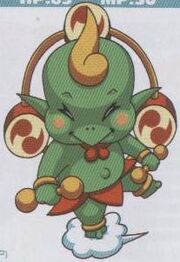 Thundar, known as Kaminari-sama (カミナリさま) in Japan, is a demon in the series.
Kaminari-sama, more commonly known as Raijin, is a god of thunder and lightning in Japanese mythology.
Appearances
Edit
DemiKids Light & DarkEdit
" A demon that dwells among the clouds and occasionally generates rain and thunder."
Can perform the combo Angry Skies with Mecchii.
Devil Children White BookEdit
| Class | Element | Type | Exp | Level | HP | MP |
| --- | --- | --- | --- | --- | --- | --- |
| Common | Thunder | Good | 15 | 5 | 69 | 30 |
| ATK | DEF | MGC | RES | SPD | LCK |
| --- | --- | --- | --- | --- | --- |
| 6 | 7 | 8 | 7 | 6 | 8 |
DemiKids Light & DarkEdit
| Class | Element | Type | Exp | Level | HP | MP |
| --- | --- | --- | --- | --- | --- | --- |
| Common | Thunder | Good | | 5 | 69 | 30 |

| ATK | DEF | MGC | RES | SPD | LCK |
| --- | --- | --- | --- | --- | --- |
| 6 | 7 | 8 | 7 | 6 | 8 |
List of Skills

Skill
Element
Cost
Effect
Shock
Thunder
5 MP
Small dmg. 1 Foe
Numbing Claw
Thunder
10 HP
Small dmg +Paralyze. 1 Foe
Heal
Light
5 MP
Minor HP recovery. 1 Ally
Mystic Bind
Dark
6 MP
Paralyze. 1 Foe
Cure
Light
6 MP
Cure. 1 Ally
Shockdeus
Thunder
8 MP
Small dmg. 2 Foes
Devil Children Fire/Ice BookEdit
| Class | Element | Type | Exp | Level | HP | MP |
| --- | --- | --- | --- | --- | --- | --- |
| Common | Thunder | Good | | 5 | 69 | 30 |

| ATK | DEF | MGC | RES | SPD | LCK |
| --- | --- | --- | --- | --- | --- |
| 6 | 7 | 8 | 7 | 6 | 8 |