Ad blocker interference detected!
Wikia is a free-to-use site that makes money from advertising. We have a modified experience for viewers using ad blockers

Wikia is not accessible if you've made further modifications. Remove the custom ad blocker rule(s) and the page will load as expected.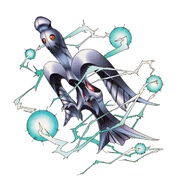 Thunderbird (サンダーバード, Sandaabaado) is a demon in the series.
The Thunderbird is a legendary creature found in Native American folklore. It's considered a "supernatural" bird of power and strength. It is especially important, and richly depicted, in the art, songs and oral histories of many Pacific Northwest Coast cultures, and is found in various forms among the peoples of the American Southwest and Great Plains. Thunderbirds were major components of the Southeastern Ceremonial Complex of American prehistory. The Thunderbird's name comes from the common belief that the beating of its enormous wings causes thunder and stirs the wind.
Appearances
Edit
Shin Megami Tensei: Strange JourneyEdit
"

A legendary bird of Native American lore. They are said to live high in the mountains. Their flapping wings cause winds, their claps cause thunder, and their eyes shoot light. It is said they can carry the ocean on their backs and eat whales whole.

"
—Shin Megami Tensei: Strange Journey Compendium
Devil Summoner: Soul HackersEdit
If Thunderbird's loyalty is maxed out, it can be converted through Mystic Change into the Raijin Sword, a blade that can inflict shock on enemies.
DemiKids Light & DarkEdit
"

Big, strange bird with wings of lightning. Believed to bring happiness to its master.

"
Known as Boltbird, he has the power ThunderHoard.
Shin Megami Tensei: Strange JourneyEdit
| Attack Type | | | | | | | | | |
| --- | --- | --- | --- | --- | --- | --- | --- | --- | --- |
| Single foe/1/Gun/None | - | Weak | - | - | Reflect | - | - | - | - |
| Poison | Paralyze | Stone | Strain | Sleep | Charm | Mute | Fear | Bomb | Rage |
| --- | --- | --- | --- | --- | --- | --- | --- | --- | --- |
| 100% | 100% | 100% | 100% | 100% | 100% | 100% | 100% | 100% | 100% |
D-Source Skills
Elec Boost
Void Elec
None
Password
-EXZiDeYwJEqukBY

TGMwucVYuz0OukAL
Shin Megami Tensei IVEdit
| Race | Level | HP | MP | ST | DX | MA | AG | LU |
| --- | --- | --- | --- | --- | --- | --- | --- | --- |
| Avian | 42 | 364 | 162 | 48 | 44 | 44 | 57 | 48 |
| Phys | Gun | Fire | Ice | Elec | Force | Light | Dark |
| --- | --- | --- | --- | --- | --- | --- | --- |
| - | Weak | - | - | Repel | - | - | - |
Devil Summoner: Soul HackersEdit
| Race | Level | HP | MP | CP | MAG Summon |
| --- | --- | --- | --- | --- | --- |
| Avian | 42 | 369 | 110 | 7 | 499 |

| Strength | Intelligence | Magic | Endurance | Agility | Luck |
| --- | --- | --- | --- | --- | --- |
| 15 | 5 | 12 | 15 | 15 | 5 |
| Personality | Phys Attack | Phys Hit | Mgc Attack | Mgc Hit | Base Defense | Avoid |
| --- | --- | --- | --- | --- | --- | --- |
| Sly | 114 | 66 | 97 | 22 | 130 | 65 |
| Resist | Void | Absorb | Reflect | Weak |
| --- | --- | --- | --- | --- |
| - | Expel | Elec | - | Gun |
DemiKids Light & DarkEdit
| Class | Element | Type | Exp | Level | HP | MP |
| --- | --- | --- | --- | --- | --- | --- |
| Elite | Thunder | Bird | 881 | 46 | 491 | 215 |

| ATK | DEF | MGC | RES | SPD | LCK |
| --- | --- | --- | --- | --- | --- |
| 42 | 41 | 40 | 42 | 45 | 40 |
List of Skills

Skill
Element
Cost
Effect
Shocklok
Thunder
15 MP
Large dmg +Shock. 1 Foe
Thunderbolt
Thunder
23 HP
Small dmg +Shock. 2 Foes
Sonic Boom
Wind
23 HP
Small dmg. Foes
Teleport
Light
10 MP
Teleport Party
Shockblast
Thunder
20 MP
Medium dmg. Foes
Defdrain
Dark
5 MP
DEF Down. Foes
Devil Children Fire/Ice BookEdit
| Class | Element | Type | Exp | Level | HP | MP |
| --- | --- | --- | --- | --- | --- | --- |
| Elite | Thunder | Bird | 881 | 46 | 491 | 215 |

| ATK | DEF | MGC | RES | SPD | LCK |
| --- | --- | --- | --- | --- | --- |
| 42 | 41 | 40 | 42 | 45 | 40 |