Tiamat
Talk

0
3,872pages on
this wiki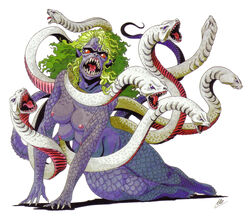 "

Faster than humans can fill the land... Faster than the humans can destroy the planet... I shall give birth to demons to keep them in check! So long as this land is abundant with seeds, I will birth an endless orchard of demons!

"
—Tiamat, Shin Megami Tensei: Strange Journey
Tiamat (ティアマト, Tiamato) is a demon in the series.
Tiamat is the Babylonian deity personifying the seas. It is also considered the mother goddess of primordial chaos, giving birth to a number of deities that later turned against her. She is portrayed as either a sea serpent or a dragon.
Appearances
Edit
Megami Tensei IIEdit
Tiamat guards the entrance to Ground Zero in the Ginza Underpass that leads to several of the cities still left in Tokyo. In the final dungeon, it becomes a common encounter.
Shin Megami Tensei: Strange JourneyEdit
"The primordial goddess of Babylonian lore.
She governs the sea and gave birth to many deities with her consort Apsu, the god of fresh water. When war broke out between her and those gods, she created 11 monsters to fight with her, but they were defeated by Marduk. Her body was ripped apart and used to make the world."
—Shin Megami Tensei: Strange Journey Compendium
Tiamat is one of the four Mothers of the Schwarzwelt (alongside Maia Ouroboros, Maya and Mem Aleph) in Strange Journey. She appears in Sector Fornax and is responsible for rebirthing Morax, Asura, Mitra, and Horkos.
She's also notable as only one of three enemies in the game capable of using the Pure Blue (a combined Dekunda-Diarahan) move, which she will only use if she has been debuffed so any of her own stats have a value of -4.
Shin Megami Tensei IVEdit
The leader of Team Red in the Challenge Quest RxW Smacktacular XIII. A god amongst gods, she tells Flynn she doesn't understand why the humans would participate in these games, as she was summoned and ordered by the Ashura-kai to participate rather than choosing to. Since she can't disobey, she wishes to just get it over with. After her defeat she is impressed by Flynn and admits that she never thought she would get beaten. Asking if he is Flynn and having it confirmed leads her to tell him the Ashura-kai were wary of having him participate in the games, and that things have gotten interesting before crumbling. She later becomes a common encounter in Infernal Tokyo.
Majin Tensei II: Spiral NemesisEdit
Tiamat is a boss in Paranoia's Tebel on the Dark-Law/Chaos routes.
Devil Summoner: Soul HackersEdit
"

...WHY DOST THOU AWAKEN ME? I HAVE LONG FORGOTTEN BATTLE... FOOLISH ONE... THE POWER OF MAN IS NOT ENOUGH TO DEFEAT ME...

"
—Tiamat, Devil Summoner: Soul Hackers
Tiamat is one of the two ancient demons inhabiting the ruins beneath Nikamimon, the other being Apsu. Their presence interfered with the Phantom Society's plans of installing Manitou at the site, so Vice-Minister Nishi hired Naomi to eliminate one of the demons to make room.
During the associated Vision Quest, the player must choose whether Naomi eliminates Tiamat or Apsu. If Tiamat is confronted, upon its defeat she curses Naomi and kills her as it dies. The goddess's power is later absorbed by Manitou, which gives it strong magical attacks but a vulnerability to physical attacks.
DemiKids Light & DarkEdit
Tiamat can perform the combo Hydra Blast with Succubus, Acid Rain with Saggath, and Stun Claw with Nergul.
Megami TenseiEdit
| Race | Level | HP | EXP | Macca | MAG |
| --- | --- | --- | --- | --- | --- |
| Wilder | 51 | 232 | 142 | 108 | 45 |
Megami Tensei IIEdit
| Formations | CP | Macca | Item Drops |
| --- | --- | --- | --- |
| 1-3 | 144 | 1728 | - |

| Stamina | Intelligence | Attack | Agility | Defense | Luck |
| --- | --- | --- | --- | --- | --- |
| 28 | 11 | 30 | 17 | 29 | 10 |
Shin Megami TenseiEdit
| NOH | Strength | Intelligence | Magic | Vitality | Agility | Luck |
| --- | --- | --- | --- | --- | --- | --- |
| 1 | 36 | 16 | 20 | 22 | 16 | 10 |

| Attack | Hit | Defense | Evasion | MPower | MEffect | Drop |
| --- | --- | --- | --- | --- | --- | --- |
| 163 | 21 | 100 | 18 | 22 | 18 | |
List of Skills
Skill
Cost
Effect
Venom Breath
Extra
Attacks multiple enemies and Poisons them
Venom Bite
Extra
Bites one enemy and Poisons it
Critical
Extra
Delivers a mighty blow against one enemy
Shin Megami Tensei IIEdit
As an AllyEdit
| Strength | Intelligence | Magic | Stamina | Agility | Luck |
| --- | --- | --- | --- | --- | --- |
| 26 | 9 | 10 | 10 | 9 | 7 |
| NOH | Attack | Hit | Defense | Avoid | MPower | MEffect |
| --- | --- | --- | --- | --- | --- | --- |
| 3-5 | 154 | 93 | 122 | 89 | 12 | 11 |
List of Skills
Skill
Effect
Zionga
Mediarahan
Sexy Dance
Poison Gas Breath
Water Wall
Roundhouse Kick
As a BossEdit
| Strength | Intelligence | Magic | Stamina | Agility | Luck |
| --- | --- | --- | --- | --- | --- |
| 24 | 14 | 17 | 17 | 15 | 10 |

| NOH | Attack | Hit | Defense | Avoid | MPower | MEffect |
| --- | --- | --- | --- | --- | --- | --- |
| 1 | 148 | 98 | 134 | 96 | 20 | 18 |
List of Skills
Skill
Effect
Zionga
Poison Gas Breath
Water Wall
Sexy Dance
Roundhouse Kick
Constrict
Devil's Kiss (Female)
Shin Megami Tensei: if...Edit
| Strength | Intelligence | Magic | Stamina | Agility | Luck |
| --- | --- | --- | --- | --- | --- |
| 31 | 14 | 23 | 22 | 18 | 11 |
| NOA | Attack | Hit | Defense | Avoid | MPower | MEffect |
| --- | --- | --- | --- | --- | --- | --- |
| 3-5 | 202 | 133 | 184 | 129 | 26 | 19 |
List of Skills
Skill
Effect
Ziodyne
Maziodyne
Mediarahan
Sexy Dance
Cleave
Shibaboo
Megaton Press
Shin Megami Tensei: Strange JourneyEdit
| Attack Type | | | | | | | | | |
| --- | --- | --- | --- | --- | --- | --- | --- | --- | --- |
| Single Foe/1/Physical/None | - | - | Null | Drain | Weak | - | - | Strong | - |
| Poison | Paralyze | Stone | Strain | Sleep | Charm | Mute | Fear | Bomb | Rage |
| --- | --- | --- | --- | --- | --- | --- | --- | --- | --- |
| 100% | 100% | 100% | 100% | 100% | 100% | 100% | 100% | 100% | 100% |
D-Source Skills
Ice Amp
Life Gain
Mana Gain
Password
nCMQaVdQ98c$qD2J

UD3xq5Lvt24GqD3$
Shin Megami Tensei IVEdit
| Race | Level | HP | MP | ST | DX | MA | AG | LU |
| --- | --- | --- | --- | --- | --- | --- | --- | --- |
| Drake | 55 | 305 | 296 | 53 | 59 | 76 | 50 | 70 |
| Phys | Gun | Fire | Ice | Elec | Force | Light | Dark |
| --- | --- | --- | --- | --- | --- | --- | --- |
| - | - | Null | Drain | Weak | - | - | Resist |
Last BibleEdit
| Level | HP | MP | Endurance |
| --- | --- | --- | --- |
| 15 | 96 | 0 | 13 |

| Intelligence | Strength | Speed | Luck |
| --- | --- | --- | --- |
| 9 | 13 | 9 | 9 |
Last Bible IIIEdit
| Level | HP | MP | Attack | Defense |
| --- | --- | --- | --- | --- |
| 51 | 726 | 195 | 155 | 65 |

| Strength | Endurance | Intelligence | Speed | Luck |
| --- | --- | --- | --- | --- |
| 22 | 24 | 20 | 16 | 14 |
| | | | |
| --- | --- | --- | --- |
| Equipment | Weapon, Accessory | Card Location | Asher: Storage Plant |
Majin TenseiEdit
| Race | Level | HP | MP | Movement | Move Type | Attack Type |
| --- | --- | --- | --- | --- | --- | --- |
| Snake | 76 | 732 | 0 | 7 | Flat | |

| Strength | Magic | Technique | Defense | Agility | Luck | CP |
| --- | --- | --- | --- | --- | --- | --- |
| 31 | 15 | 21 | 23 | 8 | 10 | 18 |
Majin Tensei II: Spiral NemesisEdit
| Race | Level | HP | MP | Movement | Move Type | Range |
| --- | --- | --- | --- | --- | --- | --- |
| Soshin | 91 | 435 | 95 | 8 | Walk | 1 |

| Strength | Wisdom | Magic | Defense | Agility | Luck | MAG |
| --- | --- | --- | --- | --- | --- | --- |
| 34 | 24 | 16 | 31 | 17 | 9 | 920 |

| Attack | Phys Defense | Magic Attack | Magic Defense | Hit | Avoid | Critical |
| --- | --- | --- | --- | --- | --- | --- |
| 202 | 85 | 45 | 73 | 100 | 16 | 4 |
Devil Summoner: Soul HackersEdit
| Race | Level | HP | MP | CP | MAG Summon |
| --- | --- | --- | --- | --- | --- |
| Godly | 73 | 9564 | 2237 | - | - |

| Strength | Intelligence | Magic | Endurance | Agility | Luck |
| --- | --- | --- | --- | --- | --- |
| 16 | 19 | 27 | 21 | 11 | 10 |
| Personality | Phys Attack | Phys Hit | Mgc Attack | Mgc Hit | Base Defense | Avoid |
| --- | --- | --- | --- | --- | --- | --- |
| - | 178 | 115 | 236 | 64 | 204 | 114 |
| Resist | Void | Absorb | Reflect | Weak |
| --- | --- | --- | --- | --- |
| Magic | Expel, Death, Mind, Nerve | - | - | Phys |
Devil Children White BookEdit
| Class | Element | Type | Exp | Level | HP | MP |
| --- | --- | --- | --- | --- | --- | --- |
| King | Water | Dragon | 378 | 30 | 317 | 143 |
| ATK | DEF | MGC | RES | SPD | LCK |
| --- | --- | --- | --- | --- | --- |
| 28 | 26 | 25 | 22 | 29 | 26 |
List of Skills

Fire Breath
Midareuchi
Marvelous Dance
Maharagi
Diarahan
Tetrakarn
DemiKids Light & DarkEdit
| Class | Element | Type | Exp | Level | HP | MP |
| --- | --- | --- | --- | --- | --- | --- |
| King | Water | Dragon | 426 | 32 | 346 | 145 |

| ATK | DEF | MGC | RES | SPD | LCK |
| --- | --- | --- | --- | --- | --- |
| 29 | 27 | 28 | 27 | 24 | 26 |
List of Skills

Skill
Element
Cost
Effect
Venom Foam
Water
20 HP
Small dmg +Confuse. 1 Foe
Venom Claw
Dark
10 HP
Small dmg +Poison. 1 Foe
Healmax
Light
20 MP
Full HP recovery. 1 Ally
Heart Wrench
Dark
10 HP
Tempt. Random Foe
Wild Blows
Dark
15 HP
Hit x3. 1 Foe
Reflect
Dark
25 HP
Reflect Power Damage
Devil Children Fire/Ice BookEdit
| Class | Element | Type | Exp | Level | HP | MP |
| --- | --- | --- | --- | --- | --- | --- |
| King | Water | Dragon | 426 | 32 | 346 | 145 |

| ATK | DEF | MGC | RES | SPD | LCK |
| --- | --- | --- | --- | --- | --- |
| 29 | 27 | 28 | 27 | 24 | 26 |
List of Skills

Doku no awa
Poison Scratch
Diarahan
Marvelous Dance
Midareuchi
Tetrakarn
Artwork in Devil Children White Book
Tiamat as seen in Devil Summoner: Soul Hackers
Sprite from Kyuuyaku Megami Tensei (Megami Tensei)
Sprite from Kyuyaku Megami Tensei (Megami Tensei II)
Tiamat as seen in the Sega CD remake of Shin Megami Tensei
Portrait from Shin Megami Tensei: Strange Journey
Tiamat as she appears in Last Bible II
Tiamat as she appears in Last Bible Special
Sprite from Card Summoner