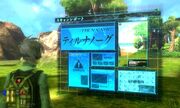 Tir Na Nog (ティルナノーグ) is a location in the series.
The Land of Youth in Celtic Myth. It is the land of the Tuatha De Danaan.
Appearances
Edit
Shin Megami Tensei IV FinalEdit
Tir Na Nog is the area Nanashi is sent to for the experience grinding DLC. This forested and beach area is filled with Celtic Demons and Mitamas. Grimoires are dropped by normal enemies that level up Nanashi, his demons, or partners.
A later dlc also takes place in Tir Na Nog, featuring a beach event and battle against Mephisto.
DemiKids Light/Dark VersionEdit
Known as Tyrnanog it is the castle of Empio and Empra the Imperius of the Imperium in Valhalla.
Devil Children Messiah RiserEdit
The ruins of Tir Na Nog is visited on Jin's route, where Behemoth stands watch as the boss.
Tir Na Nog Beach in Shin Megami Tensei IV Final
Second scene of the Tir Na Nog in Shin Megami Tensei IV Final