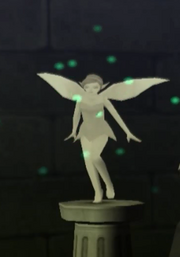 Twinklebell is a minor character in Digital Devil Saga.
She is based on Tinker Bell, a fictional character from J. M. Barrie's 1904 play Peter Pan.
Appearances
Edit
Digital Devil Saga: Avatar TunerEdit
A statue of a fairy found inside the Destinyland castle at Coordinate 136. She gives tips to the Embryon in order for them to advance.