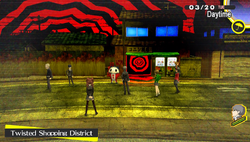 The Twisted Shopping District (異様な商店街, Iyōna Shōten Machi)? is a location in Persona 4. It is the reality within the Midnight Channel created by Saki Konishi.
Background Music: "Backside of the TV"
Available: April 15
Deadline: n/a
Victim: Saki Konishi, Yosuke Hanamura
Floors: 1
During their initial trek into the Midnight Channel, Teddie leads Yosuke and the protagonist into a part of the world that had never been there before. Yosuke was surprised to find that this area looked exactly like the Central Shopping District. Teddie then leads them into the entrance of a dungeon, which was parallel to the location of the Konishi Liquor Store.
Just then, Shadows emerged from the entrance. The protagonist awoke to his Persona, Izanagi, and defeated the Shadows with ease. Taking no chances, the trio stepped inside, where they found it to be a storeroom. There, the party heard the thoughts of Saki-senpai, which made Yosuke feel guilty, and subsequently revealed his Shadow. The Shadow then mocked Yosuke's purpose in coming to the Midnight Channel, revealing that he was only coming for the thrill of exploring the new world. When Yosuke denied this, the Shadow turned violent and attacked the party. The protagonist summons his Persona and defeated the Shadow. Yosuke then accepted that the Shadow is who he is, and awakened his own Persona Jiraiya.
Skill Spanner — Yosuke's weapon. Found within the Former Konishi Liquor area after Yukiko joins the party.
Mori Ranmaru Sochu - An item for Quest 03. Check the barrels to get this.
| Shadow | LV | HP | SP | Weak | Resist | Block | Absorb | Reflect | Floor |
| --- | --- | --- | --- | --- | --- | --- | --- | --- | --- |
| Slipping Hablerie | 1 | 40 | 35 | Elec | Fire | - | - | - | - |
| Shadow Yosuke | 3 | 300 | 200 | Elec | Phys | Light, Dark | - | - | - |
Note: No more Shadows appear after the Boss event.
Note: No more Shadows appear after the Boss event.
The junction at Shopping District, North
Scene in front of Konishi Liquors
Konishi Liquor Entrance in Persona 4 The Animation
Ad blocker interference detected!
Wikia is a free-to-use site that makes money from advertising. We have a modified experience for viewers using ad blockers

Wikia is not accessible if you've made further modifications. Remove the custom ad blocker rule(s) and the page will load as expected.