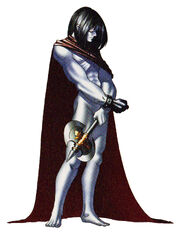 Tyr (ティール, Tīru)? is a demon in the series.
Tyr is the god of single combat, victory and heroic glory in Norse mythology, portrayed as a one-handed man.
In the late Icelandic Eddas, Tyr is portrayed, alternately, as the son of Odin (Prose Edda) or of Hymir (Poetic Edda), while the origins of his name and his possible relationship to Tuisto he was once considered the father of the gods and head of the pantheon, since his name is ultimately cognate to that of Dyeus, the reconstructed chief deity in Indo-European religion. It is assumed that Tyr was overtaken in popularity and in authority by both Odin and Thor at some point during the Migration Age.
Tyr was equated with Mars in the Interpretatio romana.
Appearances
Edit
Devil Summoner: Soul HackersEdit
"A war god known for his courage in Norse mythology. He lost his right hand when Fenrir bit it off, but it was because of this heroic deed he is regarded as brave. While he is a war god, he is also a god of law and justice. Equated with the Roman god Mars, the day Tuesday comes from his name."
—Devil Summoner: Soul Hackers 3DS Compendium
Megami Ibunroku PersonaEdit
Tyr is Brown's Ultimate Persona.
Majin Tensei II: Spiral NemesisEdit
| Race | Level | HP | MP | Mv Range | Mv Type | Atk Range | MAG |
| --- | --- | --- | --- | --- | --- | --- | --- |
| Tenma | 74 | 372 | 100 | 8 | Walk | 1 | - |

| St | Ma | In | Ag | Lu | Atk | P.Def | M.Atk | M.Def | Hit | Eva | Crt |
| --- | --- | --- | --- | --- | --- | --- | --- | --- | --- | --- | --- |
| 28 | 20 | 27 | 20 | 15 | 140 | 24 | 65 | 93 | 103 | 20 | 17 |
List of Skills

Skill
Power
Range
Cost
Target
Effect
Zanmaon
80
2
60 MP
Single
2x damage to Snakes and Machines
Holy Spark
88
7
M. Extra
Multi
Same as Zioraon
Shin Megami Tensei: Devil SummonerEdit
| Race | Level | HP | MP | St | In | Ma | Ag | Lu |
| --- | --- | --- | --- | --- | --- | --- | --- | --- |
| Kishin | 39 | 320 | 119 | 17 | 7 | 8 | 11 | 5 |

| CP | NOA | Personality | P.ATK | P.HIT | B.DEF | AVD | M.ATK | M.DEF |
| --- | --- | --- | --- | --- | --- | --- | --- | --- |
| 54 | 1-2 | Impatient | 112 | 74 | 104 | 71 | 19 | 35 |
Devil Summoner: Soul HackersEdit
| Race | Level | HP | MP | St | In | Ma | En | Ag | Lu |
| --- | --- | --- | --- | --- | --- | --- | --- | --- | --- |
| Kishin | 41 | 491 | 150 | 18 | 8 | 9 | 13 | 11 | 7 |

| CP | MAG Summon | Personality | P.ATK | P.HIT | B.DEF | AVD | M.ATK | M.HIT |
| --- | --- | --- | --- | --- | --- | --- | --- | --- |
| 7 | 487 | Wild | 118 | 65 | 124 | 64 | 82 | 24 |
| Reflects | Absorbs | Void | Resists | Weak |
| --- | --- | --- | --- | --- |
| - | - | Expel, Death | - | - |
Megami Ibunroku PersonaEdit
MAtk
MDef

| | | |
| --- | --- | --- |
| Strength | 51 | |
| Vitality | 56 | |
| Dexterity | 56 | |
| Agility | 51 | |
| Luck | 34 | |

165
130
1h
2h
Sp
Ax
Wp
Th
Ar
Fs
HG
MG
SG
Ri
Te
Ru
-
-
-
-
-
-
-
-
-
-
-
1.5×
-
-
Fi
Ic
Wi
Er
El
Nc
Bl
Gr
Ex
Mi
De
Cu
Nr
???
1.5×
1.5×
1.5×
1.5×

2

/

4

2

/

4

½

Rf
-
-
-
-
-

3

/

4

1

/

4
List of Skills

Rank
Skill
Effect
1
Lightning Kick
Medium Tech damage (area)
3
Western Blow
Medium Blast damage (area)
5
Zandyne
Heavy Blast damage (area)
6
Magry
Light Gravity damage (all foes)
8
Binal Strike
Special Phys damage; user dies (area)
Tyr alternate color palette
Tyr as it appears in Card Summoner
Tyr as it appears in the Megami Ibunroku Persona manga