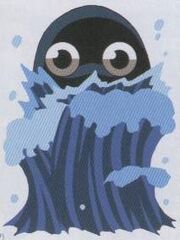 Umibozu (ウミボウズ, Umibouzu) is a demon in the series.
Umibōzu (Japanese: 海坊主 sea bonze) is a spirit in Japanese folklore. The Umibōzu is said to live in the ocean and capsize the ship of anyone who dares speak to them. This spirit's name, which combines the character for "sea" with the character of "Buddhist monk," is possibly related to the fact that the Umibōzu is said to have a large, round head, resembling the shaven heads of Buddhist monks. Alternatively they are enormous Yōkai (spectres) that appear to shipwreck victims and fishermen. They are believed to be drowned priests, and exhibit the shaven head and typically appears to be praying. It is usually reported as having a grey, cloud-like torso and serpentine limbs.
Appearances
Edit
DemiKids: Light & DarkEdit
"A giant sea demon that rides on the crest of a massive tidal wave."
—DemiKids Demonary
Known as Seaboz, they have the power WaterWall.
Devil Children: White BookEdit
| Class | Element | Type | Exp | Level | HP | MP |
| --- | --- | --- | --- | --- | --- | --- |
| Common | Water | Ghost | 402 | 31 | 327 | 147 |
| ATK | DEF | MGC | RES | SPD | LCK |
| --- | --- | --- | --- | --- | --- |
| 29 | 25 | 28 | 23 | 23 | 30 |
DemiKids: Light & DarkEdit
| Class | Element | Type | Exp | Level | HP | MP |
| --- | --- | --- | --- | --- | --- | --- |
| Common | Water | Ghost | 423 | 32 | 330 | 151 |

| ATK | DEF | MGC | RES | SPD | LCK |
| --- | --- | --- | --- | --- | --- |
| 29 | 27 | 27 | 25 | 25 | 27 |
List of Skills

Skill
Element
Cost
Effect
Aquadeus
Water
8 MP
Small dmg. 2 Foes
Aquaburst
Water
10 MP
Medium dmg. 1 Foe
Pandemonium
Dark
6 MP
Confuse. 1 Foe
Spellboost
Light
6 MP
MGC Up. Party
Tidal Wave
Water
25 HP
Small dmg. Foes
Healmor All
Light
18 MP
Major HP recovery. Party
Devil Children Fire/Ice BookEdit
| Class | Element | Type | Exp | Level | HP | MP |
| --- | --- | --- | --- | --- | --- | --- |
| Common | Water | Ghost | 423 | 32 | 330 | 151 |

| ATK | DEF | MGC | RES | SPD | LCK |
| --- | --- | --- | --- | --- | --- |
| 29 | 27 | 27 | 25 | 25 | 27 |