Undine
Talk

0
3,148pages on
this wiki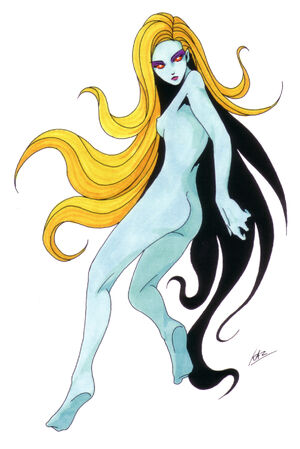 Undine (ウンディーネ, Undīne) is a recurring demon in the series.
Famous medieval German-Swiss chemist Paracelsus coined this term for female water sprites. An elemental is a mythological being first appearing in the alchemical works of Paracelsus.
In one story an Undine married a human man who vowed to love her with every breath he took, but when he was unfaithful, she cursed him to stop breathing in his sleep and die. He ultimately passed out from sheer exhaustion and suffocated.
Appearances
Edit
Megami Tensei IIEdit
After defeating the group of Hydras in Sorrow Valley, the hero can send an Undine to dive into the underground lake to retrieve a mystical jewel that douses the fire wall surrounding Belial's Castle. He'll be prompted three times to ditch the undine, but if he waits, the undine will arrive back with the jewel.
Shin Megami Tensei: Strange JourneyEdit
"One of the four elemental spirits of Paracelsus, it is a water spirit in the shape of a beautiful virgin.
Their name is Latin for "wave." There are tales of some falling in love with humans, and it is said if you marry one, you should never yell at her by water, for she will return there. If you are unfaithful to an Undine, she will kill you."
—Shin Megami Tensei: Strange Journey Compendium
Shin Megami TenseiEdit
Clan
Alignment
HP
MP
NOH
MAG
Strength
Intelligence
Magic
Stamina
Seirei
Neutral
200
60
1 - 3
0
15
10
12
15
Level
Agility
Luck
Attack
Hit
Defense
Avoid
MPower
MEffect
30
18
10
60
22
40
20
13
12
List of Skills
Skill
Cost
Devil Summoner: Soul HackersEdit
Race
Level
HP
MP
CP
MAG Summon
Element
24
186
92
5
381
Strength
Intelligence
Magic
Endurance
Agility
Luck
5
7
10
4
8
7
Personality
Phys Attack
Phys Hit
Mgc Attack
Mgc Hit
Base Defense
Avoid
Kind
58
40
86
24
72
39
| Resist | Void | Absorb | Reflect | Weak |
| --- | --- | --- | --- | --- |
| - | Expel | - | Ice | Fire |
List of Skills
Bufu
Loyal Ice
-
Persona 4Edit
| LVL | Arcana | ST | MA | EN | AG | LU |
| --- | --- | --- | --- | --- | --- | --- |
| 33 | Lovers | 21 | 27 | 13 | 26 | 19 |
| Inherit | Resists | Block | Absorbs | Reflects | Weak |
| --- | --- | --- | --- | --- | --- |
| Recovery | None | None | Ice | None | Fire |
List of Skills
Skill
Cost
Effect
Level
Diarama
6 SP
Recovers a moderate amount of HP to one ally. Can be used in the field.
Innate
Bufula
8 SP
Inflicts a moderate amount of Ice damage on one enemy.
Innate
Posumudi
3 SP
Recovers from the Poison ailment. One ally.
Innate
Mabufula
16 SP
Inflicts a moderate amount of Ice damage on all enemies.
34
Mediarama
36
Recovers a moderate amount of HP to all allies. Can be used in the field.
{{{Level5}}}
Ice Boost
Passive
Ice damage output is increased by 25%.
37
Shin Megami Tensei: Strange JourneyEdit
| LVL | Race | Alignment | HP | MP | ST | MA | AG | VI | LC |
| --- | --- | --- | --- | --- | --- | --- | --- | --- | --- |
| 28 | Prime | Light-Neutral | 249 | 143 | 18 | 21 | 19 | 17 | 19 |
| Attack Type | | | | | | | | | |
| --- | --- | --- | --- | --- | --- | --- | --- | --- | --- |
| Single Foe/1/Physical/None | - | - | - | Null | - | - | Null | Null | - |
| Poison | Paralyze | Stone | Strain | Sleep | Charm | Mute | Fear | Bomb | Rage |
| --- | --- | --- | --- | --- | --- | --- | --- | --- | --- |
| 100% | 100% | 100% | 100% | 100% | 100% | 100% | 100% | 100% | 100% |
Natural Skills
Mabufu
None
None
D-Source Skills
Bufudyne
Sukunda
None
Password
+7r#+Dgyh#my+7wO
+Fo6z#QuDFpy++oQ