It's been a week since Persona 4 Golden's release, and so far the reviews for the game have been extremely positive, scoring a 95 average on metacritic.com. If you're still wondering whether or not to buy the Golden edition rather than the regular edition, here's a list of five things you definitely need to know about the Persona 4 Golden edition.
Extra characters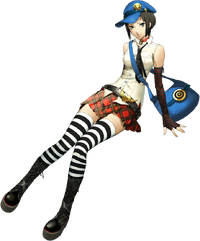 The Golden Edition includes two extra social links, Marie and Adachi. Marie is an assistant of the Velvet Room. She will help the Protagonist with creating his player card for the game's online features and is responsible for the player's skill cards. Befriending Marie will help the Protagonist realize the potential of the Aeon Arcana, eventually enabling him to summon the Persona Kaguya. The second new social link, Tohru Adachi often serves as the story's comic relief. He jokingly refers to himself as the 'slave' of Dojima, complaining of the workload that his partner piles on him. Adachi also often accidentally blurts out the police investigation results to the Investigation Team, much to his own chagrin. He can be seen hanging around Junes Department Store, usually planning to buy cabbages to cook for dinner.
Additional voice over dialog
Both Chie and Teddie will have new voices in the English version of the game. "With Persona 4: Golden, there's 40% (roughly) additional voiced dialogue with all the additional content. A decision had to be made, with regards to the consistency of the experience. So it was decided that those characters are rerecorded."
New locations
New areas, such as a beach and a ski resort have been added to the Golden edition as well. Okina City, which was only seen during certain Social Link scenes, is now accessible. Player can explore Inaba on evening time, with few limitation places (similar to Persona 3). Yu and his friends now have motorbikes to get around various areas as well.
New difficulty levels
The Golden Edition includes five difficulty levels, ranging from Very Easy to Very Hard. These game modes are similar to the ones in Persona 3 Portable. On New Game+, player can change and even customize the difficulty levels on configuration menu.
New gameplay features
Various new gameplay features have been added to the golden edition, such as the ability to call for help via Wi-Fi when your party reaches critical status and support for trophies on the PlayStation 3. The developers also changed the attributes or area spawns of certain enemies, rebalanced various characters, added new types of shuffle time, and made various other small tweaks.
Ad blocker interference detected!
Wikia is a free-to-use site that makes money from advertising. We have a modified experience for viewers using ad blockers

Wikia is not accessible if you've made further modifications. Remove the custom ad blocker rule(s) and the page will load as expected.