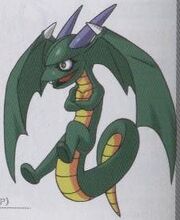 Vaget (ヴァジェット, Vajetto) is a demon in the series.
Based on Egyptian primal goddess - Wadjet. She was depicted as snake-headed woman or an Egyptian cobra and was a protector of Lower Egypt, its kings and women in childbirth. Wadjet was usually associated with Nekhbet and both of them were known as Two Ladies.
Appearances
Edit
DemiKids: Light & DarkEdit
"Fire-breathing dragon with a strong sense of justice and deadly claws to enforce it."
—DemiKids Demonary
Known as Firetung, she can use the Fire combo Wyrm Breath with Lindwurm, the Light combo Dragon Power with Doom Rox, and the Wind combo Dragon Cross with Ares. Firetung also has the power Hyper Speed.
Devil Children: Black/Red BookEdit
| Class | Element | Type | Exp | Level | HP | MP |
| --- | --- | --- | --- | --- | --- | --- |
| General | Fire | Dragon | 1127 | 52 | 558 | 247 |
| ATK | DEF | MGC | RES | SPD | LCK |
| --- | --- | --- | --- | --- | --- |
| 51 | 50 | 49 | 49 | 48 | 49 |
Devil Children Black Book/Red Book (PS)Edit
| Class | Element | Type | Exp | Level | HP | MP |
| --- | --- | --- | --- | --- | --- | --- |
| General | Fire | Dragon | 1127 | 52 | 558 | 247 |
| ATK | DEF | MGC | RES | SPD | LCK |
| --- | --- | --- | --- | --- | --- |
| 51 | 50 | 49 | 49 | 48 | 49 |
Devil Children: White BookEdit
| Class | Element | Type | Exp | Level | HP | MP |
| --- | --- | --- | --- | --- | --- | --- |
| General | Fire | Dragon | 1127 | 52 | 558 | 247 |
| ATK | DEF | MGC | RES | SPD | LCK |
| --- | --- | --- | --- | --- | --- |
| 51 | 50 | 49 | 49 | 48 | 49 |
DemiKids: Light & DarkEdit
| Class | Element | Type | Exp | Level | HP | MP |
| --- | --- | --- | --- | --- | --- | --- |
| General | Fire | Dragon | 956 | 48 | 522 | 219 |

| ATK | DEF | MGC | RES | SPD | LCK |
| --- | --- | --- | --- | --- | --- |
| 48 | 45 | 46 | 44 | 48 | 41 |
List of Skills

Skill
Element
Cost
Effect
Pyrolok
Fire
15 MP
Large dmg. 1 Foe
Darkfire
Fire
32 HP
Medium dmg. 1 Foe
Venom
Dark
6 MP
Poison. 1 Foe
Spellboost
Light
6 MP
MGC Up. Party
Cure
Light
6 MP
Cure. 1 Ally
Pyroblast
Fire
20 MP
Medium dmg. Foes
Devil Children Fire/Ice BookEdit
| Class | Element | Type | Exp | Level | HP | MP |
| --- | --- | --- | --- | --- | --- | --- |
| General | Fire | Dragon | 956 | 48 | 522 | 219 |

| ATK | DEF | MGC | RES | SPD | LCK |
| --- | --- | --- | --- | --- | --- |
| 48 | 45 | 46 | 44 | 48 | 41 |